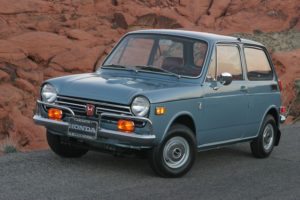 I don't know for sure when Doc became interested in owning a Mini. I remember in 1969 he had seen pictures of the 1970 Honda — the first Honda imported into the United States. He said if we only had the money we would have opened the first Honda dealership in Canada because it was going to be the car of the future!
There had been a few small cars in Canada at that time such as the Morris Mini-Minor. In fact one of my co-workers at Imperial Oil Limited, Edna Campbell, owned one! However, it was in 1969 that the Austin Mini was officially named a MINI.
In our early years of marriage it was the norm for a family to have two cars:  one large car (preferably a station wagon) and a smaller car (more economical on gas).  Usually the large, impressive car was used by the person going downtown to work and the smaller car was at home for the persons buying groceries, driving kids to sporting events.  Doc thought this should be the opposite way around and he wanted a Mini to drive to work.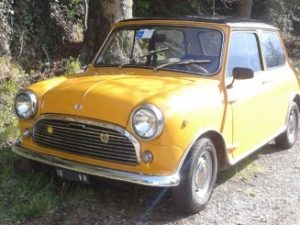 The first Austin Mini we owned was bought from someone in Melville, Saskatchewan in 1973.  It was canary yellow in colour.  We towed this car behind our car to get it to Regina and I rode in the Mini to keep it on the straight and narrow as it was pulled along! I remember it was a very, very hot July day — at least 39 degrees Celsius outside.  Those Minis back then didn't have roll-down windows, but tiny, sliding windows and for that trip, although I had the sliding widows as open as they'd go, the incoming air was little relief from the heat!  We arrived home with the Mini intact.
Doc made some adjustments to the Minis he drove so he could drive a standard without being able to move his feet around so much. He was able to add a brake lever to the steering column so braking was always in his control. That, and the diminutive size of the car, meant he was able to park in some very tight places, which meant the amount of walking he needed to do was often minimal.
Little did I know that this MINI and many more Mini's would be a major part of not only our lives but the lives of our four kids and something that grew into a huge Mini family, with Doc at the top.
A word (or more) about giving.  We all heard that "it is better to give than to receive".  But when we were young we mostly wanted to receive!  Many people give to charity, their church, the United Way, some even buy Girl Guide cookies.  If you have a family chances are you will be giving a majority of your free time in supporting your child's activities such as music, dance, sports, etc.  It is important to know just how the recipient of your donation is managing the gift.   We all know how generous the people of our country, Canada, have been in supporting the Red Cross in recent weeks since the horrendous forest fire damage and evacuation of the people in the Fort McMurray area in the province of Alberta.  It was imperative that all the donations of over 100 million dollars will be used specifically for this disaster and not anywhere else.  As an adult you realize that giving is much better than receiving.  It makes you feel good to help others in need.
Doc was a giver.  He had parents that were givers.  He learned to give at a young age.  He had a gift of knowledge that he shared with anyone and everyone.  I said before that he knew cars but that wasn't the only thing he knew.  He could pretty well fix anything and as long as you were willing to do the heavy lifting he would help you fix it!  He knew all about plumbing, heating, carpentry, wiring. Cars, planes, trains, and more.
But the gift of teaching most of the new owners of a Mini all they needed to know about a car was probably the most satisfying gift he gave.
The Mini family, at the start, consisted of four young fellows that worked at the brand new McDonalds that had opened up on Albert Street in south Regina – they were working there while going to school. These guys had seen Doc's Mini and before we knew it they started hanging out on our driveway to learn more about this intriguing car, which attracted others. Larry Crozier, Glen Robertson, Allan Thiessen, and Rob Wallace were the "fab" four — Glen Robertson's Mini was a beautiful green metallic. Allan Thiessen's was cream-coloured, Larry's was dark blue and Wally's was white. Then there was Doug Reimche – who had a Mini called "The Boss Plumb", Gary Kraft, Garry Allan, Dean Meyer, Larry Dunn, Andy Sollars, Len Renwick and Ron and Monica Atchison – they all became part of the Mini family. Some of them didn't necessarily have Minis, like Dean Meyer – he had a fascination with other British cars like the Bug-Eyed Sprite – but all of them would come over, swap parts, and fix whatever happened to be broken, with Doc.
In the beginning, we didn't have a garage and you needed somewhere to work on these cars when it was the middle of winter, so he commandeered some space in Gary Allan's garage at 4141 McTavish Street which had the bonus of a heater – and after supper, he'd usually hop in the car, go over to Garry's place with Colleen to hand him wrenches to work on some car or other. Later, after we'd built a garage of our own, that's where they would gather.
Doc loved how both the Mini — and the Honda — had transverse engines, which took up less space than other engines, but didn't give you a lot of room to work on. His fascination with the Honda continued… in 1975, he'd found two wrecked Honda Civics — a red one and a brown one, bought them both and put them together in Terry and Eula Ennis' garage, 16 years after our impromptu engagement party there.
The car was ready for Colleen's 16th birthday, bought with money she'd earned by working at McDonalds.
The Minis came in a variety of sizes and colours. There were station-wagons, some with wooden panels, and most had 998 cc engines. But there were Cooper S Minis too, those had 1200 cc engines and their power, combined with the front-wheel drive, were powerful. The Sports Car Club of Regina often organized Ice Races and I was there for one of them as a spectator. Doug Riemche was there with his Cooper S and Doc said I should go and take it for a lap and see how I could do. I ended up coming in 1st!
Murray used his paper route money to buy the Cooper S from Doug. It was a beautiful, light charcoal-grey coloured car and his pride and joy. About six months after he got his driver's licence, he was stopped to let a pedestrian cross the street in front of the Pasqua Hospital and was rear-ended. Murray was in shock, devastated with what had gone on and although he wasn't seriously injured, it was a long recovery for him.
Murray continues to keep the O'Shea love of Minis alive, and three of my six grandchildren have had Minis too – Alexander, Kayleigh and Gregory. After all, like the promotional jingle in the 1970's, they're "fun to drive, great to ride, save you lots on gas, fit in tiny parking spots and saves you lots of cash!"