Lisa and her husband Tracy have been in Las Vegas (Henderson) for almost 2 years and this is my third visit. Last year they leased a duplex but now they are in a new home. A golf course was sold to a developer and their house is on the land where the clubhouse once stood. In the neighborhood alongside the 'new' development is a community center and an elementary school. Less that 1 mile away is the historic old main street, Water Street, where you can find Henderson's City Hall, restaurants, shops, and of course, off-strip casinos. It's also home to an up to the minute dual hockey arena and facilities 'America First Center' – which makes the neighborhood feel like a small town.
My family was kind to escort me to the airport on September 13 and in no time, I was through customs and on my way to Las Vegas. With my mocha from Starbucks in hand I settled in for the three hours wait for our flight. A couple sat down beside me as our departure time was imminent and we started chatting. It turned out that they were from Regina, my old stomping grounds. We spent the next 90 minutes talking about what was happening in Regina including the Saskatchewan Roughrider football team! Thank you so much Lydia and Ken. When we arrived in Las Vegas I took the Red Train to Las Vegas Harry Reid International Airport, Terminal 3. Tracy had my bags and Lisa came running with hugs. Home via Tacotarian.
On Sunday Tracy made a tee time for Lisa and Me at the Legacy golf club for 1:45 p.m. Tracy had just come back from Ohio where he had golfed as many games as days he was there. He declined golfing on this day and just rode on a cart. Lisa and I golfed 6 holes, but it was too hot – 95F and no breeze, stifling.
While I was in Henderson, I was busy doing odd jobs in Lisa's office, baking different kinds of muffins, roasting vegetables such as potatoes, carrots, parsnips, onions, broccoli in the oven, making a variety of soups, working out with the Jane Fonda Fit and Strong video. I loved being outside with 72F temperature almost every day. Each morning I had my breakfast on the patio by the pool and almost every evening all three of us would enjoy the hot tub.
Lisa and I met Nicole at the driving range at Wild Horse golf club one afternoon. Lisa said she needed me to help her with her golf setup. I told her how you need to think of the golf swing as being completed inside a barrel. This will keep you from swaying backward and you won't lose all momentum going forward. This she mastered in no time.
These are 5 tips I received years ago…
Grip the club so lightly that someone could pull it out of your hands.
Your stance should be shoulder width with the ball placed midway between your feet for all clubs except your driver.
Turn your hips to take the club back. Don't rely on taking the club back with your arms.
Lift your left heel as you turn back and get up on the toe of the right foot to follow through.
As you hit through the ball think of pushing the club towards second base.
Nicole told us she had been on a driving range once and tried golfing on a golf course once. I asked her if she wanted me to help her with her set up. She said, "please do" and I did. She also told me that she had played softball and I told her to finish towards second base. She then hit the driver long and straight. She would say, "I can't do better than the last one" but more drives and more better drives were to come. Tracy, however, is not in need of my amateur coaching as he golfs around 78 or 79 golfing in a Men's league Thursdays and Saturdays.
Tracy and Lisa
I took my Ping clubs to Golf Galaxy and had them shortened about an inch. They were senior men's length and I thought I should have women's length now that I am not as strong as I used to be. I had them re-gripped and I am happy with the results. Lisa is taking golf lessons at Golf Galaxy with Tara. She started on October 7 and is enjoying every minute. To start with Tara told Lisa that she has a good swing, and that is a great start. Tara's husband Allan is also a teaching pro as well and golfs in the same league as Tracy.
Lisa and I stopped at the neighborhood jewelry store to have the battery replaced in my watch. The jeweler said he couldn't replace the battery but said Gold Casters, another jeweler, would be able do the job. At Gold Casters on Water Street in old Henderson, they got to work on my watch right away. While we waited we were totally amazed at the long glass-topped showcases of estate jewelry beautifully displayed. We saw rings of every type of stone. The pricing was calculated for us on the spot, not per a price tag, as the shop sells by the current value of the gold and the precious stones. We'd never experienced that before. The staff here were so patient and as genuinely intrigued by these pieces as we were. In fact, it felt like exploring with friends. We had so much fun checking out all the different estate rings valued anywhere from $481 to $16,000. There was so much memorabilia on the neat shelving around the shop. In about twenty minutes a clerk told us that the two junior jewelers had tried to open my watch case to no avail and the head jeweler was now working on it. A few minutes later my watch was ticking away and the cost was $8.84. Can't wait to go there again!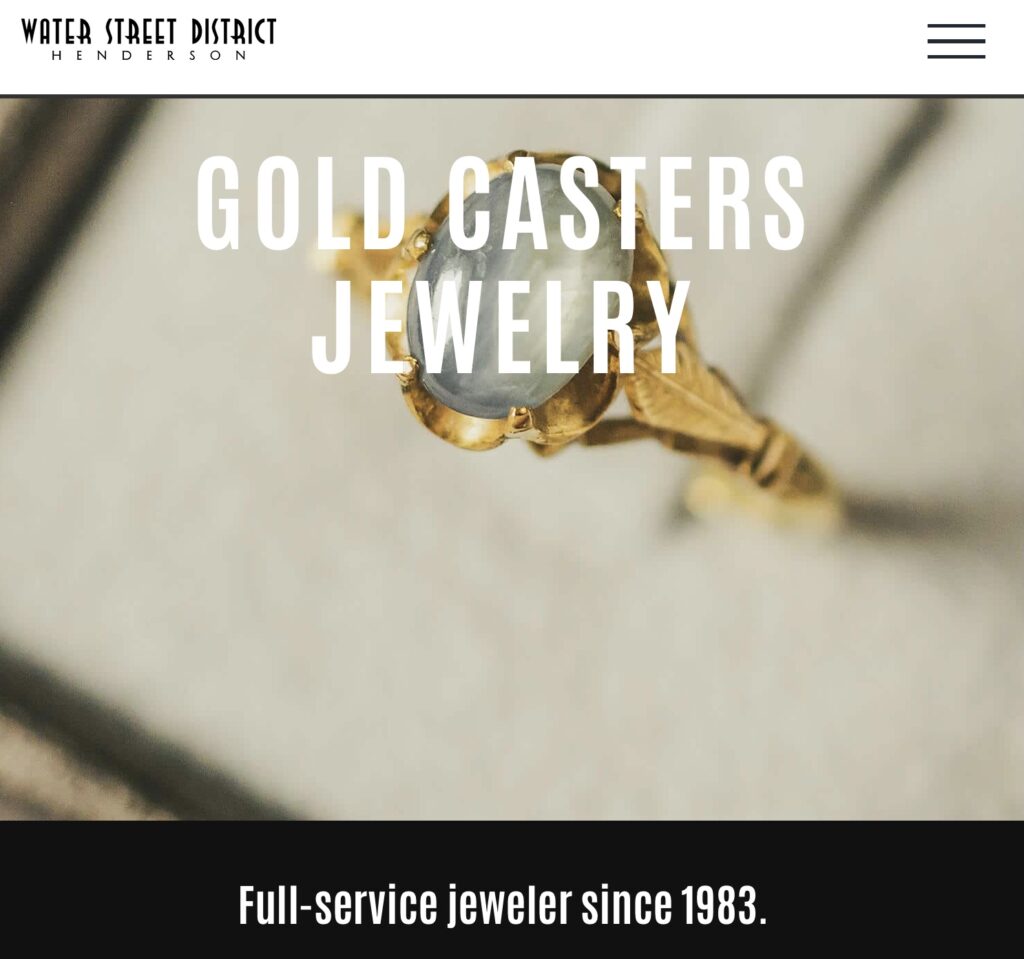 The Solheim Cup is a biennial team competition between the top women professional golfers from Europe and the United States. I spent a few NIGHTS watching the golf from Spain. Most tee times started at 11:00 p.m. Las Vegas time (8:00 a.m. in Spain). The first four matches were won by the American team so there was a lot of good golf by the European team to get back into the competition. It all came down to the final day. – Sunday. To start with, there was footage of the tall, lanky Carlota Ciganda, the Spaniard, signing autographs for her many fans BEFORE she golfed much later in the morning. I learned how Suzann Pettersen had kept her out of the Friday morning foursomes because she knew how Carlota had so many families and friends cheering for her it would be overwhelming and she needed to get used to the attention.

The singles were back and forth, one up, one down and really some good golf. I didn't see the shank that Carlota made that caused her a double, but Suzann was there to whisper in her ear "psst, do it for your country and yourself!" And as Carlota said, "It was all a blur, I don't even remember hitting the putt" that won her game with Nellie Korda. Great golfing and a great win for the European team.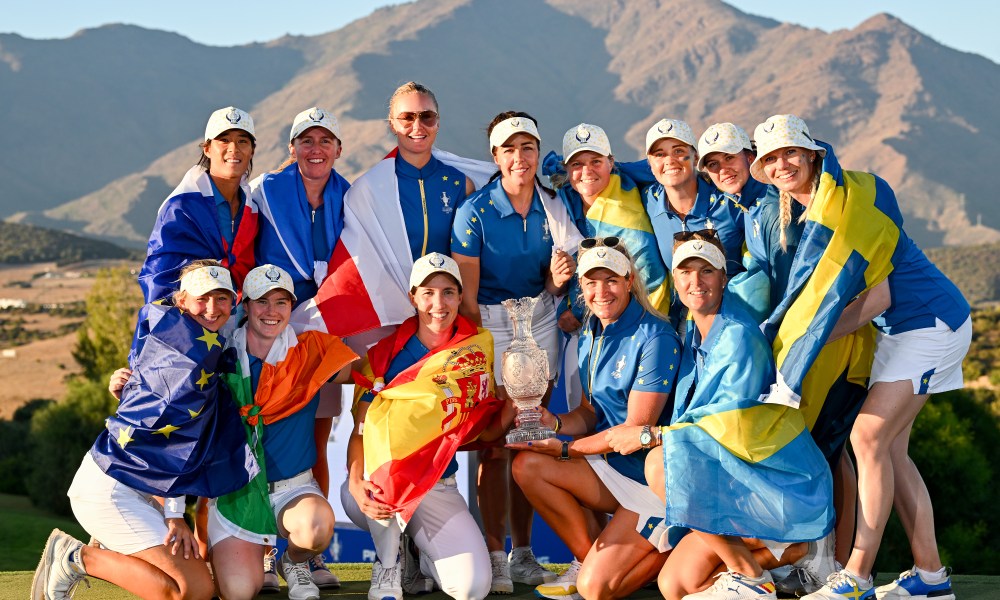 2023 European Team

My Birthday
Thanks to family, friends and friends of my family for all the best wishes for my birthday. Bridget wrote: "We should all be so lucky to look this good at 89 years old! Happy Birthday to my Mom, who has gotten up every day with a positive attitude, always looking for ways to improve her golf game and ways to keep her brain sharp and her body moving. She has not led an easy life, she was never given anything she didn't work for, she has faced some real adversity and come out on the better side of life. So, get up, move your body, challenge your mind and when things get tough fight a little harder, it sure seems to work for Mo! You're a true inspiration. Love you."
We wanted to go to Bottiglia for my birthday dinner but it was fully booked on October 7th so we had a Birthday Eve dinner there on October 6. The food was excellent, the waiter was patient, and the setting is so comfortable outside on the covered patio.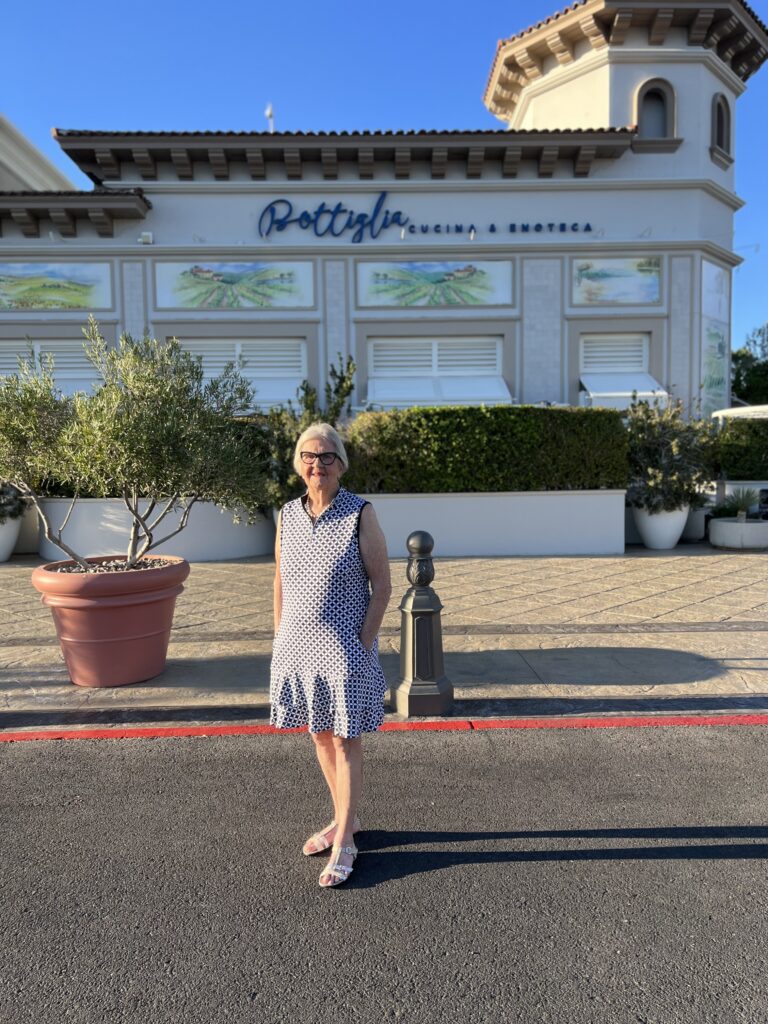 Last night of being 88
 After a busy Saturday we ended up celebrating again. We were exploring the District once more and decided on going to a Pub but King's Fish House got in the way so we stopped to have a look. It was very busy and all the booths were taken. We were directed to the bar area and found a table with stools. Big RED stools. Very comfortable. We had Fish and Chips.  I can vouch that these were the best fish and chips I have EVER eaten in my life.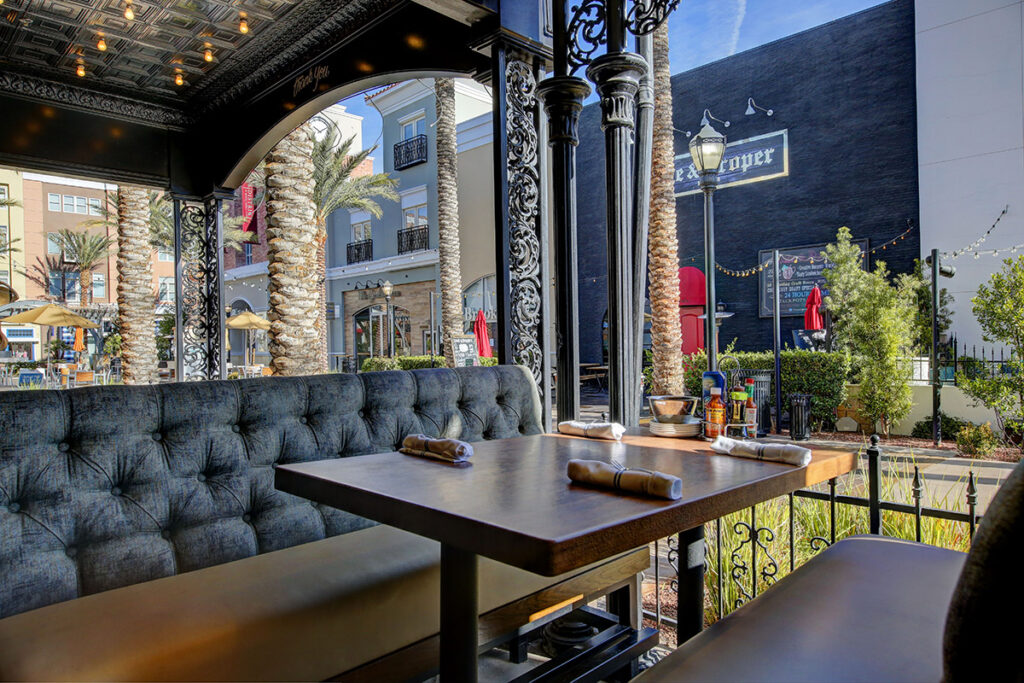 I took a late flight back to Calgary on October 13. I was so lucky to sit with Kevin and Tracey while waiting to leave Las Vegas. Kevin had lived in Regina, so we had lots to talk about and he was still a Rider fan. Thanks to my family for picking me up at the airport and taking me home.
I really enjoyed my time with Lisa and Tracy and look forward to my next visit.