I tried to write daily in the three weeks I was down in Sun City but, of course, that was a pretty aggressive schedule with all the things we had to do so there were days I missed!  Busy, busy, busy – that's exactly how we were.  Now I will try to do a recap and fill in some of the items that were left on the cutting room floor.
Sun City
Ruth has been going to Sun City, a special-built 55+ community, for several years and she looked at many homes before she bought the place she did.  She also likes to go to garage and estate sales to find those little something special to decorate her place.  When you are accustomed to having the little extras as in place mats (for example) and gadgets (like tongs for the ice bucket) it is easy to stop and shop at the sales.  We love to stop at the consignment stores just to see what is "new" as in new to the store.  Often there will be complete household furnishings that have just arrived in the store!
This year there have been quite a number of Canadians down there that have sold their property and plan on renting if they return next winter. This move is probably due to the low Canadian dollar: sometimes it was close to $1.50 to buy one American buck!!!  Even if they bought just a few years ago after the last crash, many have opted to sell and will take a chance on renting in the future.
There are a lot of advantages to living in Sun City. Just check out their web page for all the information regarding the recreation facilities and the benefits a recreation card entails.  For golf, annual or monthly options are available that cover five championship golf courses, two 18-hole executive courses and one 9-hole executive course.  A Surcharge annual pass for $775 enables you to play any of the five championship courses for $5 a round.  Many of the men I met were playing with the Annual Golf Pass Surcharge option.
And then there's access to the Recreation Centers Sun City. The RCSC cardholders have seven Sun City recreation centers where they can play. No other 55+ community in the country can boast as many centers as the original one here at Sun City, AZ. Every recreation center offers a myriad of activities and amenities such as swimming pools, fitness centers, social halls and special-interest clubs. Sun City Recreation – it's a great way to play!
Concerts, Bridge, Theatre and Golf
We went to a concert, a tribute to Roy Orbison, at the Sundial Auditorium. We played Bridge at the Fairway Centre and had such a fun evening with Candi and Arlene – and some days we played cards before dinner and, one night, we played after dinner too. We went to a dinner theatre performance of Fiddler on the Roof at the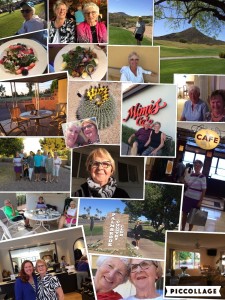 Arizona Broadway Theatre, a performance we all enjoyed.
Over the three weeks I was there, Ruth and I played golf at eight different courses as well as her home course. We participated in the Canadian-American golf tournament and won prizes, even though the Americans beat us again this year!
A day spent with Sharon at Scottsdale's Fashion Square was super fun. We took time out of window shopping and bargain hunting to have a sit down lunch at the Cafe in Nordstrom (classy and delicious) and then sped through the other stores we just had to visit so we were finished early enough to get home for a dinner date!
The Last Day
Ruth said, "Maureen, we HAVE to golf one more time before you go home!"  So with my flight to Calgary in the evening, we booked at the Palmbrook Country Club and were on the course at 7:15 am and had a great round of golf on a perfect morning. We both played well and I finally broke 90 with an 88. Not golfing my age this time south, but a respectable number nevertheless.
Many thanks to all who made my three weeks in the sun so enjoyable.