When you hear stories of "the olden days", the girls were often child brides, or the marriage was a union of children. That may have been the case for many, but certainly was not the case for my mother's parents: marriage happened much later in life.
My maternal grandparents, Erik August Holmlund and Emma Sophia Lundberg, were married for their first – and only – time in 1888 – when Erik was 30-years-old and Emma was 33. Both he and Emma were at least the second generation to be born in the Bjurholm, Vasterbotten region of Sweden, which was near the north eastern port town of Umea, 400 kilometres from the Arctic Circle.
Dialect
Being so far north gave both the Holmlunds and Lundbergs a different dialect compared to the Swedes in the south, and that became a real picking point for my mom's mother-in-law. Anna Stone felt my mother's Swedish was inferior to her's, and she continually schooled my mother for her dialect in the twenty long years the two lived under the same roof. But that is a story for another time.
Work opportunities meant that each of them had moved further north. Emma worked as a domestic and Erik was a farmhand for the same landowner, and romance blossomed.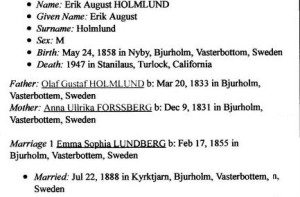 By the time Erik and Emma married, Emma had already had a daughter, Hanna Sophia, but she died before Emma married Erik, just short of her sixth birthday.
Two years later, the first of the Holmlund children came into the world. My mother Thea was the last of the Holmlund children to be born in Sweden: the family emigrated to the USA in 1894. I've been told my mother was very sick on the voyage. Living through childhood wasn't certain in those days, as we saw with Hanna, and will see with two of her sisters.
As for Erik, well he wasn't the only Holmlund to swap Sweden for the USA. Erik had two brothers and two sisters and from the five, four of them, Anton, Gustav, Erik and Anna, eventually emigrated to North America; only Evelina stayed behind. Erik and Emma first stayed in Warren, Minnesota and then moved to Strandquist where both Erik and his brother, Gustav eventually bought adjoining quarter sections of land in 1903.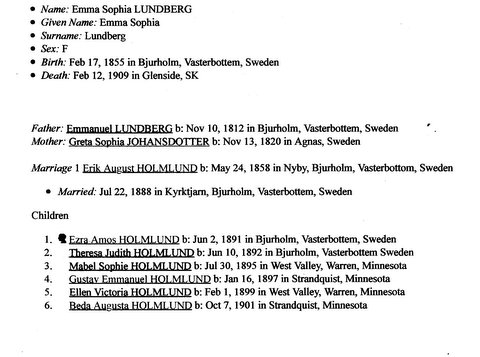 Whether the farming wasn't good in Strandquist, or if the big marketing push by the Saskatchewan Valley Land Company was an irresistible pull, I don't know. But in 1906, Gustav Holmlund and one of his cousins, Israel Forsberg and their families took the bait and caught an immigration train to Hanley, Saskatchewan. Hanley was one of the big drop-off points for incoming immigrants then, and although the homestead was around 40 miles away as the crow flies, it was the closest destination for these incoming settlers.
In Hanley, all of them – 4 adults and 16 children – spent their first night in Hanley packed together in one hotel room, which had been provided to them, as incoming immigrants to the area, at no cost.
Detour
The next day, the Holmlunds and Forsbergs started walking towards their homesteads near Macrorie, on the South Saskatchewan River and it took the two families a week to get there. Imagine what that must have been like – 16 children, herding their small herd of cattle en route, all the way to the west side of the South Saskatchewan river. Since it was on the other side of the river, they had no choice but to walk up to the village of Rudy, north of Outlook, to catch a ferry that took them, their possessions and their animals, across the river to the other side. What a detour!
That same year, as I've already recounted, my grandfather Erik took an exploratory trip to Saskatchewan, then sold his land in Minnesota and moved his family to Canada to the same general area as his brother and cousin in 1907. Erik discovered that NW 36-27-7-W3 was available: it had been abandoned as a homestead and the rules were that if a homestead was abandoned before the three years of "proving" was up, then it can be homesteaded again by someone else. This I believe is what happened with Erik on the above NW 1/4 section.
There were woods on this land which needed to be cleared to start raising a crop, and clear it they did.  How much work that must have been I can only imagine, but by 1910, Erik and Ezra were able to farm 510 acres: 110 acres were seeded and 400 acres were harrowed.  All this was done with a six oxen team.
Emma, died in 1909 of what we can ascertain was breast cancer and, when that happened, my mom, Thea, who was 17 at the time, took over the household chores and the nurturing of her siblings: Ezra (18), Gust (12) and Beda (8). Two other sisters, Mable Sophia and Ellen Victoria, had both died shortly after being born in the USA.
Wheat Plains School
The Holmlunds were Seventh Day Adventists, strict, and knew the importance of education. Gustav was a preacher and Erik was instrumental in the building of the Wheat Plains School – one of the earliest schools in the region – and even served as its chairman in 1916.  Two of Gustav's children were school teachers and remained in Minnesota for two years before coming to Canada.
Since the Wheat Plains School was on the east side of the river, the only way Gustav's children could get to school by crossing the river each day, or staying on the other side. Four of them – Ruth, Johnny, Tony and Bennie – lived in their Uncle Erik's original homesteading shack while school was in session. Ruth did the cooking and the boys took turns going to school – and herding cattle for their Uncle Erik.
When Erik's oldest son, Ezra, got married on January 1, 1916, he took over the home quarter from his father, and Erik moved again, this time to to 11-27-7 in 1916 where he farmed until 1920, when he gave the land to his son, Gust. Erik's brother Gustav was also a widower, his wife had died the year after they had come to Canada. In 1917, Gustav packed his bags and moved to Turlock, California.  In 1929, Erik moved to Turlock too, to be close to Canada. Although he was visited by my mother twice, Erik never returned to Canada and died there in 1947.