The road trip continues, across the Canadian prairies.
We were up early to get out of Dodge. Okay, not Dodge, per se, but Winnipeg. We're headed into the heart of the prairies now, to Regina, Saskatchewan and have tee-time at my favourite golf course of all, at Tor Hill. It's my stomping grounds, so to speak, it's where I really learned to play golf, and love it, I do. And it's designed by my favourite golf course architect, Stanley Thompson.
With every kilometer we were getting nearer, and the excitement of playing Tor Hill again was growing in my heart.
We stopped for coffee at the Tim Horton's in Whitewood, Saskatchewan.  Ruth was having a bit of coffee withdrawal because she had only one mug this morning!  Our drive down the #1 was quite uneventful until after we'd passed Balgonie – then it poured rain till the turn-off to Tor Hill. But the rain lifted and the golf gods seemed to be happy that I was coming home to golf.
We had coffee with Scott Knapp, the head pro, I was so happy to see him.  We had a really good visit with Scott but I was saddened to hear he had lost his younger brother last Christmas. The cart arrived and we were off to play the golf course.
Tor Hill North and West are the original Stanley Thompson 18 and I was thrilled to hear Scott say we could play North and then West!  Not long after the start of our round, we could hear thunder in the distance. We could see the clouds though, and they were heading south of us, missing the course. We were really lucky: we played all 17 holes with no more thunder and it started to rain softly on the 18th.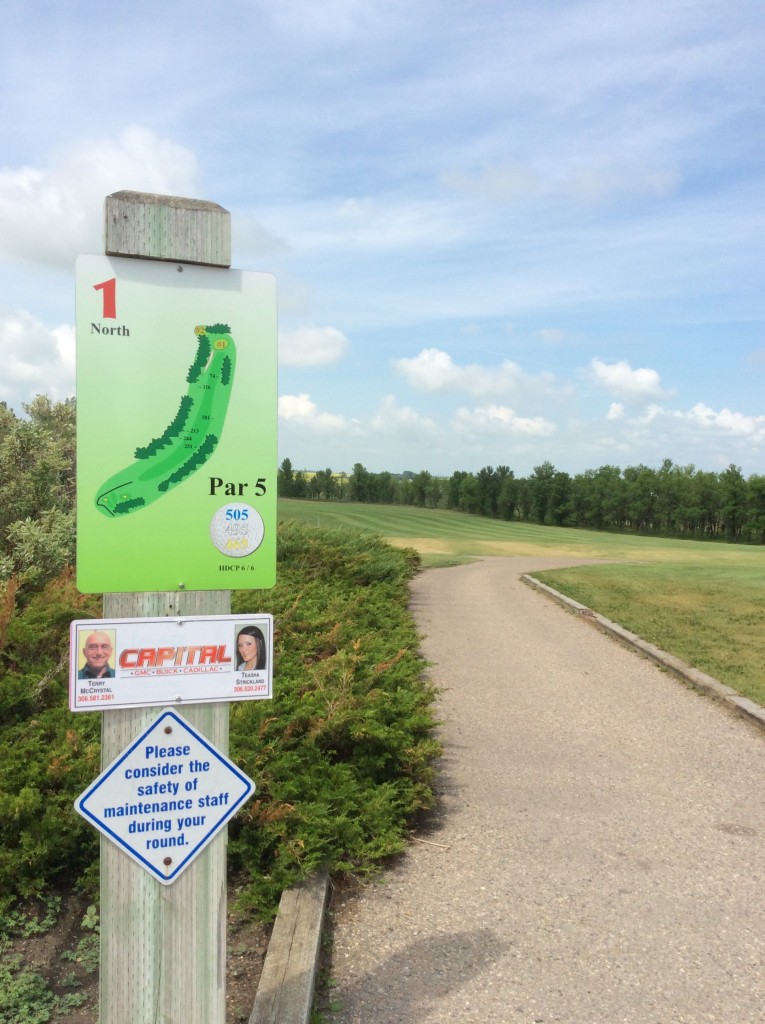 Tor Hill is beautiful. And it was amazing to "see how much the trees have grown" since I was last here.  Seriously, the fairways and greens are in such good shape it was pure pleasure to golf it once again.  As for our game, both Ruth and I  started out really well: I had a par on #1, then again on #2 and chipped in for a par on #4. But we were a bit worried about the storm in the area and we rushed quite a bit on the first nine. We both had opportunities for pars or bogies and, yes, we had some missed putts too.  We were behind a couple of fellows and on the second nine we joined them for the last three holes.  Mike and Zack are their names and they wanted their picture taken for my blog!  We managed to get our clubs in the car before we got too wet and headed into Regina.
I knew I had seen on the Internet that a new Holiday Inn Express was open on Albert Street South so we came down Hillsdale Street and checked out the house I used to live in on McNiven Avenue on our way.  The house is still looking good, I have to say. We had to stop at the Esso Station on Parliament Avenue to ask if there really was a new Holiday Inn near by.  Sure enough, it is behind the Tim Hortons – just back from the street.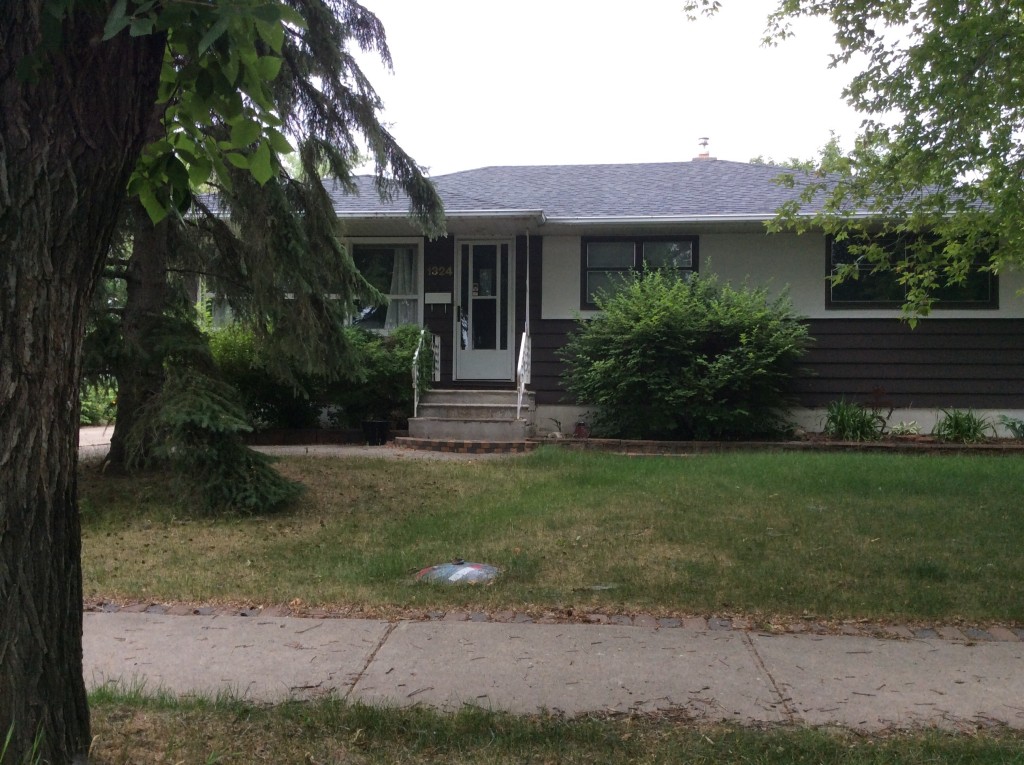 After checking into the hotel we went to The Keg for dinner and we had a lot of fun, again, with two fellows who sell fertilizer directly to farmers.  Ryan Brophy and Bill Unger both wanted to be on my blog so I took a picture of them, too!  We talked some farmer talk – about the price of canola, compared to flax, compared to wheat, compared to red lentils!  We even touched on the demise of the Canadian Wheat Board. It felt like being home again.
Ruth and I started out our meal with bacon wrapped Scallops.  Ruth had Surf and Turf and I had a half-rack of ribs.  Great potatoes and salad.
Were are off to Calgary in the morning. The road trip is nearly over.