The Calgary weather forecast was for 6-10 cm of snow and it snowed and kept snowing. Anne picked me up in her Volvo and she told me the Volvo has two sets of traction settings and she set them both! One is "all wheel drive" and the other is DSTC (Dynamic Stability & Traction Control) helps the driver avoid skidding and improves the car's traction. There was quite a bit of snow piled up at the sides of the road on Glenmore Trail but the plows had been down sometime earlier. It was snowing and blowing and there was good traction so we cruised along in the left lane for most of the way to the airport. Once there, Anne threw those clubs of mine onto a cart and my suitcase as well. She planned to come in with me but I told her I could manage by myself. She was on her way after I said I would owe her greatly for her service.
I was so proud that I had everything on my Apple Wallet; I was at a WestJet Kiosk in minutes. I tapped on the screen to start the process and the message was "scan your boarding pass." I had no such thing. An attendant told me I would have to go through the line up to check in. There are now five new check-in counters with a place to put your baggage. At the end of these is the oversized bin in the same spot it has always been. The only difference is the attendant has to leave the station and come with you to the oversize station. However, they do put the tags on your luggage and put your I.D. luggage stickers on the back of your boarding pass, which they give to you.
I was advised that the Kiosks will be operating properly again soon — that Apple Wallet is going to come in handy!
On to security and nothing has changed there.
I checked the Duty Free shop to see if they were selling Lemon Hart rum again as the last time I was going to the USA there was none on the shelves. It is back. No 'Lemon' in the name but it is now called Hart and Son, Rum Purverors. I sent a text to Lisa to see if it was on her wish list and she said, "Get it," and I did.
Finally it was time to board the plane and we did. Ready to leave at 3 p.m. But we didn't move, so we waited. And waited. Then after 45 minutes a male voice from the cabin said there was a baggage problem. Finally two hours later we were revving the engines, de-icing the plane and taking off. So far nothing but smooth flying.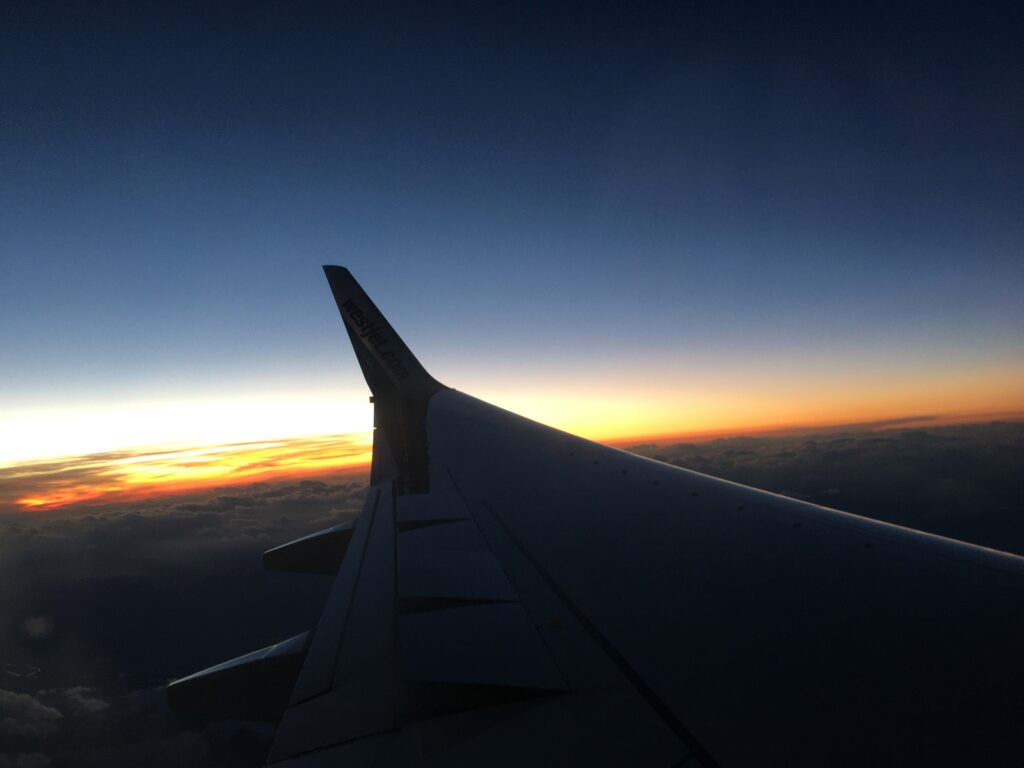 Everything seemed familiar when I landed at the LV airport as I had been in that airport many times prior to 2015. I followed the crowd heading for the baggage claim! I knew you went down a couple of levels so I trudged along with my heavy black bag (IPAD, IPhone and 2 litre bottle of rum). Down we went on two different escalators to a huge room with rapid trains to board on both sides …all saying American/Delta. I'm looking for WestJet. No sign for anything else so I hopped on one of these trains….Ended up at baggage carousels and finally an overhead sign with all flight arrivals. And an Information Center. I asked the first attendant there how to collect my bags from my flight. She said I needed to take the bus to Terminal 3 (what I eventually learned was that the flight arrived at Terminal 1, but should have arrived at Terminal 3). How confusing! I asked her to take me to the bus between terminals and she did! We crossed a parking lot to find a half dozen WestJet passengers in the same boat as I was in. In a couple of minutes the bus arrived unloaded luggage and people who had taken a train somewhere by mistake and were bussed to their luggage — I see a pattern here. I asked the couple standing beside me if they were on my WestJet flight and they said yes. They were from St. Albert, AB and asked if I was traveling alone. I said yes. They said come with us when we get off the bus. We got off the bus and I could see the carousels and there was the carousel for "D20". Lisa came running to meet me and said Tracy had my clubs and suitcase! Lisa told the couple from St. Albert that the luggage carousel for the WestJet wasn't, in fact, "D20" and showed them where to find their luggage.
Thanks to Tracy we were home to Rosefinch Street in no time. Great food and a small drink with Lisa and Tracy. Unpacked and fast asleep in a cozy, comfortable bed.
More adventures to come…..