Although the Ridge Course at Copper Point has been open for several years, I had never played it until October 4, 2020. It's an executive length golf course, with NO par 5s — but 10 par 3s and 8 par 4s.
I had read great reviews of the Ridge online and made the booking. I thought this would be a nice, easy warm up for the three times we would play on championship courses in the days that followed.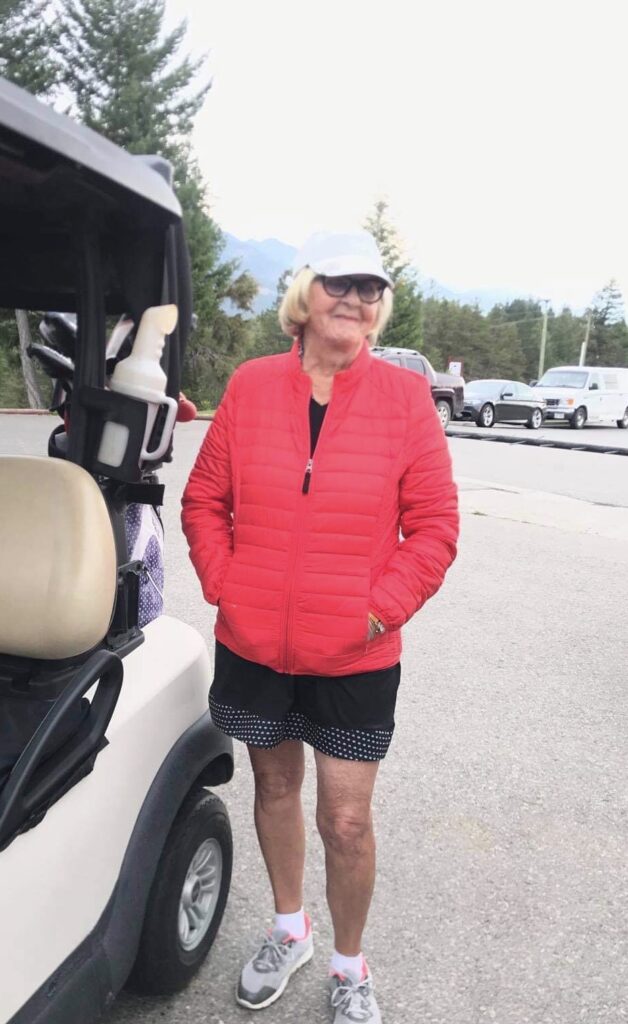 I WAS TOTALLY WRONG. IT WAS A MAJOR CHALLENGE.
I was totally wrong about it being a walk in the park. It was a major challenge – lovely but challenging! For example, the first hole was a par 4 that measured 339 yards. I figured, with that distance, it would be reachable in two shots.
No so fast!
My tee shot ended up slightly elevated — but the route to the second shot was a dog leg sloping from right to left, big time! There was a gaping bunker down the left side leading to an elevated green.
We had our hands full. And it was cold.
We were shocked because when we stopped in Radium Hot Springs for a bite to eat (at Rikos) it was sunny and warm. But just as we dropped off our clubs at Copper Point, the clouds rolled in and the temperature dropped. At first, we were reluctant to make any changes in our attire as we were sure any minute it would warm up. I should have put on my warm rain gear right away instead of waiting until the round was nearly over (hole 16) before I finally gave in. File that under "pretty stupid" .
We will play the Ridge again sometime but not when it's cold.

Our home for the next three nights was the Copper Point Resort where my daughter Colleen and I had stayed back in July when we made our first trip to the Columbia Valley together. This time, we had a two bedroom with a loft — so separate beds for all three of us! I'm sure no one was awakened by someone else snoring…. This is a superb resort and we enjoyed every minute we were at our home away from home. Thanks Colleen.

Monday morning was cool but not nearly as cold as Sunday had been but by 7 a.m., the fog was rolling in. It was quite an eerie drive to the golf course on Eagle Ranch Drive twisting and turning in the fog, but we made it.
Everything at Eagle Ranch is first class and you feel that from the moment you drive up to drop off your clubs. We were met by an attentive (and handsome) attendant, who offered to even put our clubs on our Club Cars! That same attention continues with an escort to the putting green, then driving range and then to the Starter. It was so foggy on the range in fact I couldn't see a nine iron shot of mine land. Not so sure it was the distance of the shot, the fog — or my eyesight LOL!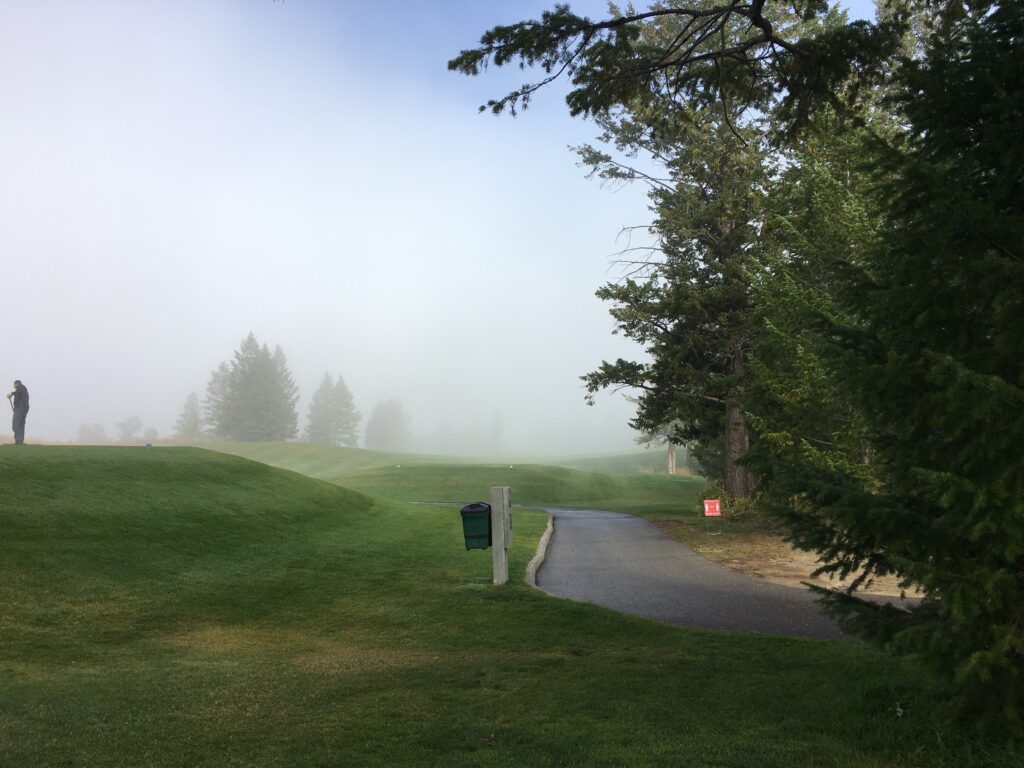 Amazingly just five minutes later, the fog lifted and we were teeing off on the first hole.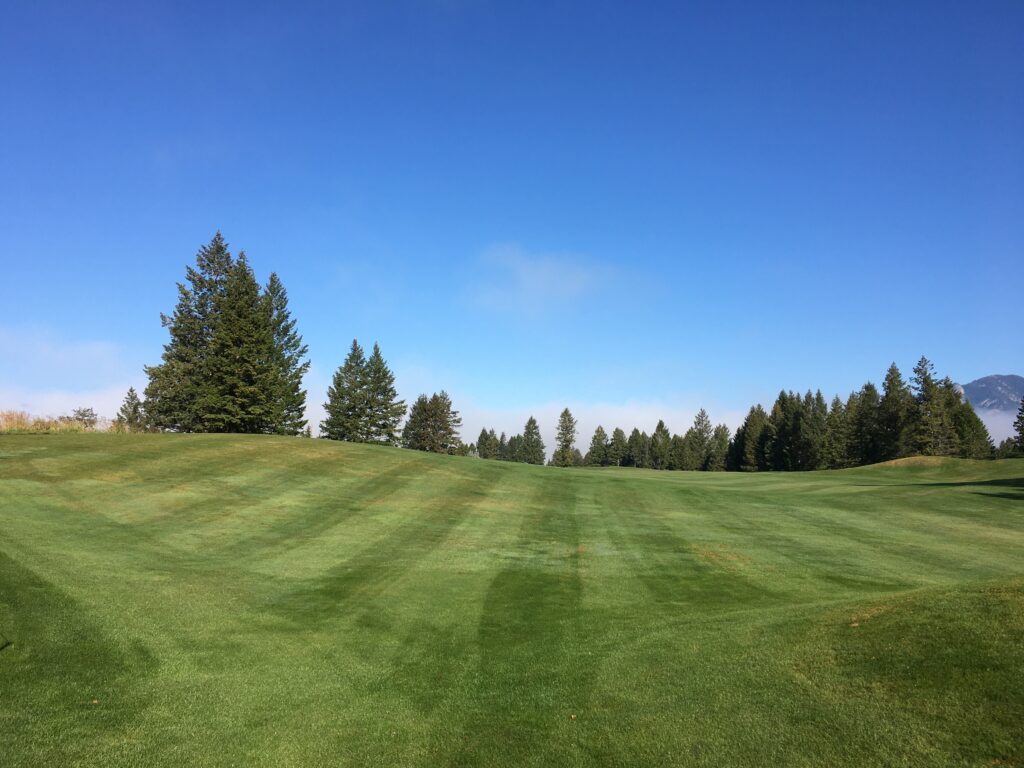 ARNOLD PALMER
The Arnold Palmer Design Company is responsible for the design, the shaping, construction – and as a result the excellent play – of Eagle Ranch. But this is not a situation where Mr. Palmer takes a fallback position and relegates to others what goes into the course.
That's because Eagle Ranch is an Arnold Palmer "Signature" course.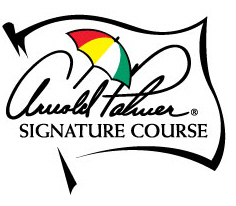 The "Signature" designation is the Arnold Palmer Design Company's highest level of service. The Arnold Palmer Signature brand begins and ends with Mr. Palmer. Each course is an original work that is the culmination of over 40 years of experience building golf courses of distinction. It's a passion for strategic design, personal commitment to each client and project, a hands-on approach to design and intense focus on important details through each phase of the project, insuring that the golf course will be one of a kind.
"The landscape, the natural water coming off the mountains really makes for a great venue. It's about as pretty as you'd ever want to see. When designing a course at this high altitude, you have to give consideration to a lot of things. One, the ball flies a little further. Generally, you've got the situation where the ball will roll a little more too. This golf course, at sea level, would be very, very tough because we've added some length in certain areas to accommodate the altitude."
"Our policy is to build golf courses people can enjoy. Our goal is on any afternoon to have 120 golfers on the course, all moving pretty quickly and enjoying themselves. Then, on the following morning, we've got the district pros competing, and we can give them the level of competition they're looking for."
"The fairways are very playable and the roughs are not extremely tough."
Arnold Palmer
Architect.
Source – http://www.eagleranch.com/

We had a wonderful golf experience at Eagle Ranch. The biggest challenge was Hole #18 with a long carry across the canyon. The scorecard shows 146 yards but by my estimate, it was more like 160 yards. Not everyone in our group carried the canyon, but the green was close by when you did get across to the drop area! What a great day.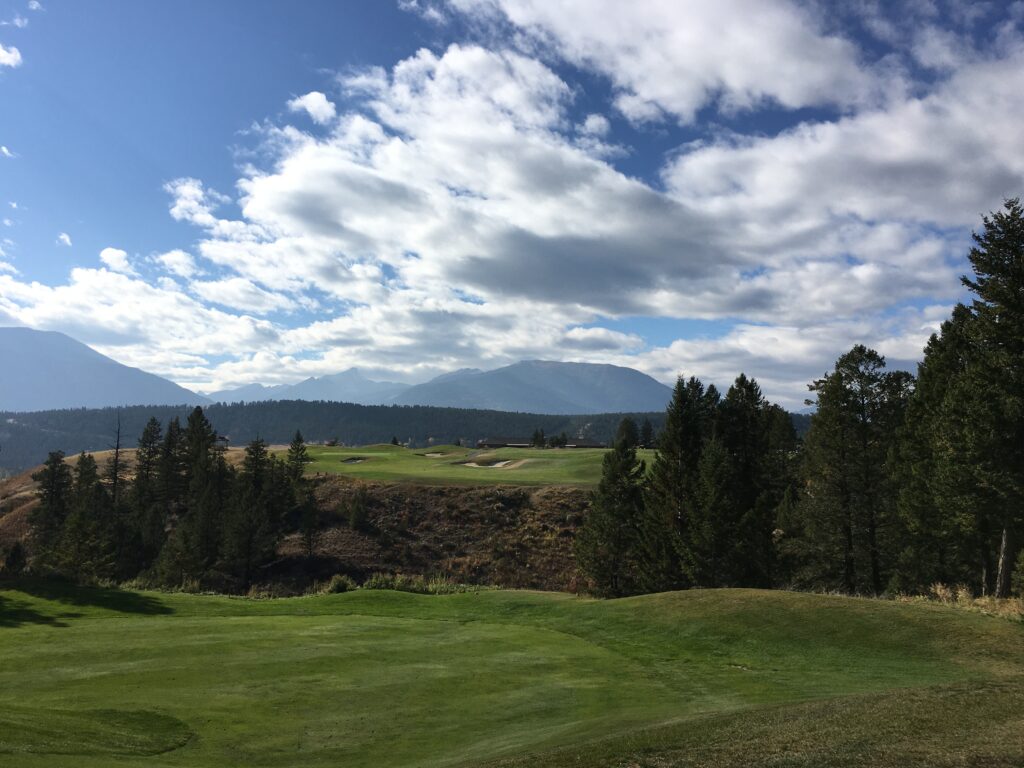 More to come from the Columbia Valley…