It was 1955 and I was turning 21. My birthday present to myself was a set of four turquoise stemmed glasses. They were turquoise and white with black stems. I bought them to celebrate the occasion with champagne, little did I know they were not the proper glass. All I knew they were pretty and I liked them!  I did know to buy G.H.Mumm  champagne. I remember we four gals who lived together drinking the champagne out of those glasses. However, I don't remember having any chocolate cake!  A family favourite.
Whatever possessed me to buy silverware I have no idea!
None of my friends were buying any. In the olden days I knew of gals making or saving things in anticipation of marriage in something called a "hope chest".  A hope chest, also called a dowry chest, or cedar chest, is a piece of furniture traditionally used to collect items such as household items and linens by unmarried young women.
Starting a "hope chest" was not something I had in mind when I went into the J.Alex MacKenzie Jewelry Store on the corner of Hamilton Street and 12th Avenue, Regina, SK in 1955. I was not in any rush to get married.
I saw the Oneida silverware in the "South Seas" pattern and fell in love with it immediately.
There was no way I had the money to buy this beautiful wooden chest filled with knives, forks and spoons. Now I'm sure the salesman, most likely the owner himself, could see the love in my eyes for this silverware.
You may know from my writings that I saved many things, newspaper articles, restaurant menus, miscellaneous items that have been featured in my blog posts. For whatever reasons I do not have  the bill from the jewelry  store for the purchase of the silverware. I don't remember the exact circumstances but  I think I paid for it "On Time".
A down payment must have been made and I can remember going into the store to pay $8.00 a month till the total amount was paid.
J. Alex MacKenzie got his first look at Regina in 1919 and on April 18, 1928, Mr. MacKenzie turned a dream into reality when he opened a jewelry store bearing his family name.
Many, many times I walked past this corner as I was living at 2251 Hamilton Street.  Just window shopping on my way home from work.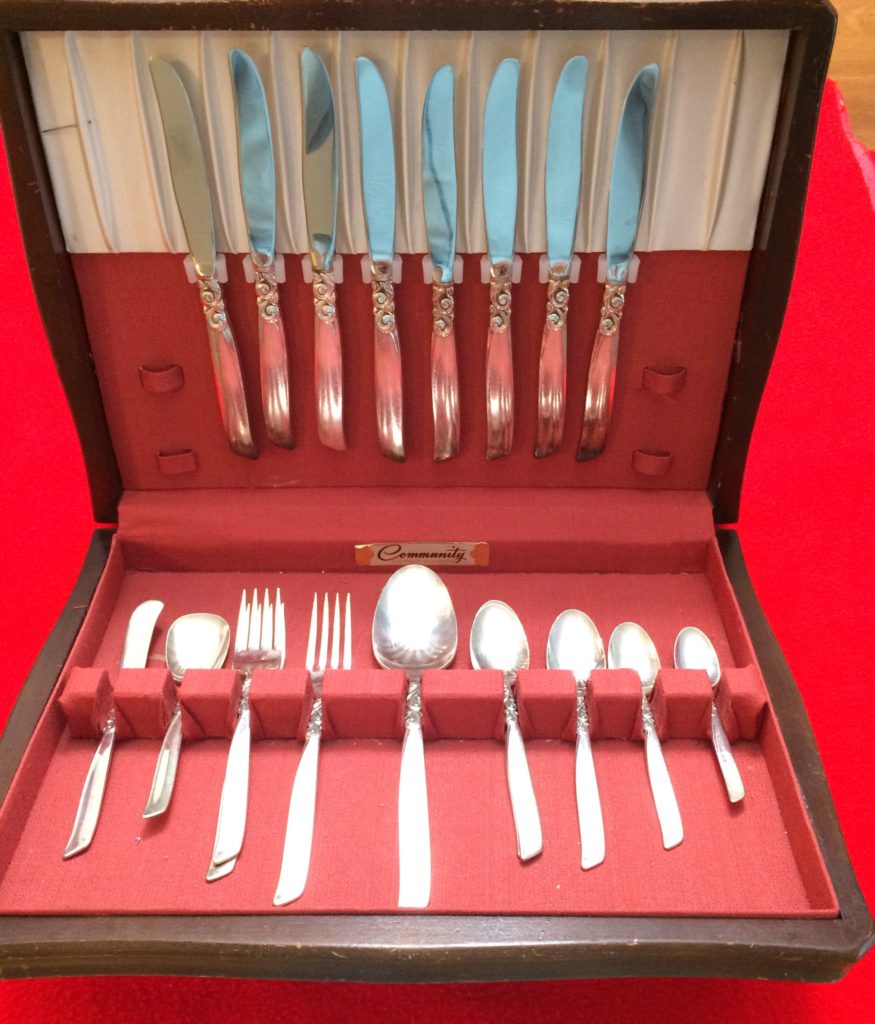 South Seas (Silverplate, 1955) by Oneida – 8 knives, 8 salad forks, 8 dinner forks, 24 spoons and 1 teeny (baby food size) spoon, 3 large serving spoons, 1 butter knife and 1 sugar spoon.
I must have lost 7 teeny spoons – luckily nobody swallowed them!
Sunday dinner at the O'Shea house meant bringing out the white linen tablecloth, the Limoge dinnerware and the South Seas silverware. Doc had inherited several linen tablecloths and napkins from his parents but of course they needed ironing. It wasn't long before these tablecloths were replaced by no-iron cloths. In the early years of our marriage it was also a time to set the table with the Thistle crystal.  This crystal was inherited as well and was so thin and fragile that I was afraid to use it on a regular basis.
I have stopped serving "Sunday Dinners" for a large group of family or frinds since I moved into an apartment condo. Downsizing was a must then and every year I take a check of my inventory and try to cull unused, unworn (in the past year) and unwanted things.
Luckily my South Seas Silverware is stored in a Mahongany Silverware Chest and rarely needs polishing.
I still love it!