We all know that the University of Notre Dame is in Indiana in the USA and is not the college in the little village of Wilcox, Saskatchewan, It was not too long ago that the name of the college at Wilcox was changed officially to the Athol Murray College of Notre Dame.
Despite the name change, I will always call it as I knew it to be: Notre Dame College. Even though I never went to school there, tears still well up in my eyes at every gathering of the "Hounds" when we sing the the Notre Dame Prayer, followed by the fight song, the "Victory March" or as I remember it "Cheer, cheer for old Notre Dame".
Dear Notre Dame
We hail Thee, alma mater
Thy loyal sons
Thy banners proudly bear
We pledge to Thee
Our love and our devotion
We beg Thee hear
and grant our prayer
Oh guide our steps,
And lead us safely onward
Through all the years,
With love and care.
Doc introduced me to Notre Dame College early in our relationship. As noted, he had gone to the College himself. He spoke of his time at the college as a bittersweet as he was a town boy, living at his parent's house in Wilcox and therefore didn't experience life in a dormitory with the other students and dorm life was really where it was at.
Doc's Mother, Bridgetta Connaughty, was the first teacher at the convent set up by the Sisters of St. Louis, in Wilcox in 1920 and with family in the village and his father also being bilingual like Pere, Doc's relationship with the College was started early in his life. Strange as it may seem, Doc said that when he was adopted by Dr. Joe and Bridgetta O'Shea in 1931 he was taken to be seen by Father Murray. The story goes that his clothes were taken off and Pere said, "He looks like a fine boy and you should keep him."
When Doc's parents retired and moved to Wilcox it was then that Doc attended the college in the university program. Pere never learned to drive a car. I do believe it was a choice he made so that he would always have a driver to take him and that meant someone to talki to! Of course the O'Sheas always had a car and Pere knew he could always call on Doc to drive him anywhere. I remember a story about Doc taking Pere and three priests to a church meeting in Moose Jaw and they were late leaving Wilcox. Pere asked Doc, "Is this as fast as your car can go? Doc said, "No." Pere said, "Step on it then because there's no way we will be killed with four priests in the car…"
Once, Doc had driven Pere to Saskatoon. They went to grab something to eat and in the booth behind them was a young married couple. Their conversation was getting louder and the man got angry and slapped his wife. Pere stood up, pulled the man out of the booth and held him by the throat.
"You will never treat a woman like that again, ever in your life," Pere promised him. "Or I will come back here and knock your block off."
Father Athol Murray was an extraordinary man. He was not born a Roman Catholic. In fact he came from an affluent Presbeterian family in Toronto. It is a long story as to how he ended up attended a boarding school at the young age of six after his Mother passed away. Then off to Quebec to University taking law and becoming bilingual. He worked as a reporter for the Toronto World in 1910, and the covering of the Roman Catholic Church Congress was instrumental in his becoming a Catholic.
It was in 1923 that Father Murray arrived in Regina. By 1927, Archbishop Mathieu was dying and there was prejudice and church politics raging over who would be his successor. The monsignors and senior clergy of the diocese were sceptical of Murray. Father Murray went to the Archbishop and said if you appoint me to be parish priest at Wilcox, which is vacant, and only one half hour away, I can come and visit every day. This way he wouldn't have to go back to Toronto and they could appoint a non French educated priest to succeed the Archbishop.
Wilcox – are you ready for Father Murray?
The early days and years of the struggles for the college are well documented. One of the books by Jack Gorman, " Pere Murray and the Hounds" is one of my favourites.
At the school he was what was called a "town boy" and his life long friends were from the Wilcox area. John Weisshaar, Lorne (Dutchy) Lawrence, Garry Allan, Bill Theaker, George Nelson and Wayne Gehm were some of his close friends.
We would quite often go to Mass at St. Augustine's Church and sometimes visit with Pere in his office. He had a desk that was covered with paper and books, full ashtrays and a bust of John F. Kennedy. He wrote to many influential people in Canada and the United States, probably in search of contributions to keep the college in business. His office was at the back of Varsity Hall; he had a cot where he slept and an electric frying pan that he used to heat water to shave (not that he shaved everyday). He wore black pants, a white tee-shirt and black suspenders, grabbing a collar and a jacket when time would come for him to say mass. But visitors were occasions, he would find a couple of glasses or coffee mugs from somewhere on his desk and pour you a drink of Scotch and have one himself. He also smoked cigarettes non stop, and, although it was strange for a priest, he was always using the name of the lord in vain – God Dammit.
He was always glad to see Doc and we would visit for at least an hour every time we would go.
My only real spiritual experience so far in life came when we were visiting Pere one Sunday after we had been to Mass in 1975. Bridget who was two years old at the time was pretty mischievous to say the least. She was not one to sit still or behave herself even in church. Even though she had seen Pere before she was totally awed by Pere and sat totally still the whole time we were in his office. For me there was an overwhelming aura in that room that seemed as though God was in the room with us.
Pere died on our son Murray's birthday, on December 15, 1975. His funeral took place in a full-blown blizzard later that week. Doc figured Pere wanted to see who was willing to make the effort to orchestrate a storm like that.
Struggle and Emerge
Notre Dame's motto is "Luctor et Emergo" – I struggle and I come through. Pere Murray's philosophies were manifold. His boundless energy was poured into teaching his basic ideals: freedom for the individual; the existence of God; and the importance of a classical liberal education. His credo, "He who does what in him lies, God will not deny His Grace." He admonished students, athletes, businessmen and heads of state to elevate them from mediocrity. He managed to keep the college going through many difficult years and many people are to thank for their anonymous donations. Today the college is a first class college with up-to-date facilities.
To walk into his "office"
I have a hard time describing what Pere meant to me. Without any exaggeration, he was the greatest person I have ever met. I was one of the lucky ones to spent time with him with Doc. His teachings and ideals have produced many successful men and women. Most everyone who attends Notre Dame comes away with an education in being : the best you can be, living by the golden rule, helping those in need, treating everyone equally and honesty is the best policy. Pere was a strong believer in his religion but he never tried to convert me to Catholicism. He loved Doc. He cared for me and although he had never met my Dad he wrote me a long letter when my Dad passed away. He wrote about the close relationship I must have had with my Dad and how sorry he was at my Dad's passing.
I don't know where or when but Pere told me his favourite song was, "Let Me Call You Sweetheart."
There were students at the college that stayed at the college during the Christmas break. Some had no money to pay for the trip home or for some other reason they stayed. Most of the staff was gone and regular meals were not prepared over the holidays. Many Christmases I would bake a large ham, decorate it with pineapple slices and red and green cherries and take it out to the college. We certainly didn't spend a lot of time at Notre Dame but went to some of the homecoming reunions.
When Colleen finished High School she worked a summer job and in August she announced in late summer that she was going to go to Notre Dame and get her B.A. from the college. There was a small group of students taking their degree at the college and she graduated in 1980. We started becoming more active with the Alumni Association and I was the Treasurer of the Saskatchewan branch of the Alumni Association. For the next ten years we worked at fundraising for the college. Bingo's at Queen City were a monthly event. We organized many golf tournaments and many of our friends played golf and/or just attended the banquet. Although I did not attend the college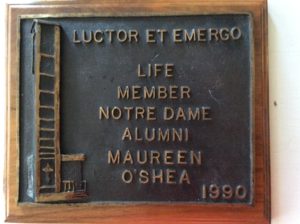 I was awarded Lifetime Membership in the Saskatchewan Alumni Association.
Bridget was the next one in the family to attend the college. She decided after she finished Grade Nine that she wanted to go to the college. After the school break at Christmas time she returned to the college. She promptly called me to say she was quitting and I told her that I had too much invested and she had to stay. Whatever the problem she had at that time must have been solved because she stayed through Grade 12 and to this day has a "gang" of Notre Dame friends.