I've started packing: I'm leaving for Toronto on Monday and I always do a trial pack of my suitcase whenever I'm going on a big trip to make sure I don't overpack, but take the clothes along that I'm going to need.
I've always liked nice clothes. My mother was a busy, busy person but, somehow, she found the time to sew clothes for all her 10 children.  The first outfit I recall wearing was a shorts and top set that I wore to the track and field meet held for the Outlook School Unit in Loreburn, Saskatchewan when I was six years old. I was so excited to be able to wear that outfit, I felt like a million dollars in it. I took that old saying, 'look good, feel good' to heart and I'm sure that feeling so good in that outfit that mother made spurred me on to win — I came home with six firsts in each of the six events that I was entered in!
My older sisters were quite fashionable and, like mother, some would sew their own clothes.  We all loved dresses — and looked good in them.  Maybe our Swedish genes gave us the nice legs!
These days, my closet could be divided into two main categories, dress clothes and golf clothes.
The truth is, I've got a few dressy items. And I have a LOT OF GOLF WEAR.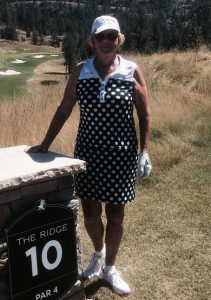 My favourite golf designer is Dexim Golfwear, a Canadian company that's taking the golf wear fashion to new heights.  The perfect blend of fit, fabric and style have made them tops — at least in my fashion world.  Just take a look at my navy and white polka dot outfit. It's not just classy, it's very comfortable.
Polka dots are so hot these days and sometimes you can get very lucky mixing brands to complete an outfit. For example, my black and white Joseph Ribkoff skirt (another Canadian designer) matches perfectly with a top I found at Chico's.  I found the perfect orange sweater at Banana Republic, and I complete the outfit with a large scarf I found at Nordstrom.
But when it comes to my favourite store, I have to give a shout-out to Chico's.  This company has now opened stores in Canada, but they've been my favourite store whenever I'm visiting the USA.  The store is filled with clothes for the active woman, but not restricted to the athlete.  They have clothes that you can put on to go to the grocery store or to a fancy luncheon and into an evening dinner.  A few years ago, their highest price point used to be at $99 and even though today, that price point now may be closer to $169, the quality of their clothing has remained.
Chico's has a Travelers line which is exactly as you'd imagine it to be. You can stuff those clothes into your suitcase and go somewhere — and when you arrive, you can take them out — WITH NO WRINKLES! They've also got a "Zenergy" line (Zen + Energy, get it?!) that includes golf wear — they have great fitting golf clothes made to golf in!  The costume jewelry they sell is so much fun. You can buy most of the necklaces at between $40-$70 and not only do they look good but the clasps are well finished and won't scratch your neck.
Scarves, sweaters and jeans can be found in most Chico's stores or you can shop online — where they also sell swimwear — and shoes!  Chico's is not a store for only the young: I have seen many women my age find clothes that make them look great!
When you look good, you feel good — that's my motto — and that's what I like to do, on the golf course, at bridge or on a road trip!