I was surprised, although I should not have been, that the weather in the desert in February was cooler this year than in the past. Not exactly comfortable golfing weather.
The day after I arrived Lisa and I were off to Boulder Creek golf course.  A college tournament was in play for the next two days. We asked the Pro in the golf shop where we would be able to find Nic Landry from Menlo College.  He said #14 hole and gave us keys to a cart to drive. We watched the foursome play the next four holes, one of which Nic birdied!  After Hole #18 we had a fifteen minute visit with Nic.  We saw the guys for four more holes and by that time "work" was calling Lisa and we headed home.
Notes from Menlo College
"The men's team's best performances came from 3 international student-athletes: Nic Guy Landry, of Canada, Paul Breuer, of Germany, and Jacob Flogstad, of Norway.
Nic Guy Landry had the best individual performance of any Oak, finishing tied for 21st with a three-round score of 218 (+2). His best round was the second of the three, when he scored an even 72. Of the 87 participating individuals, he tied for the fourth-best average score on par-4 holes, with a mark of 4.07 (+2). He also tied for the fourth-most pars of any individual, with 34."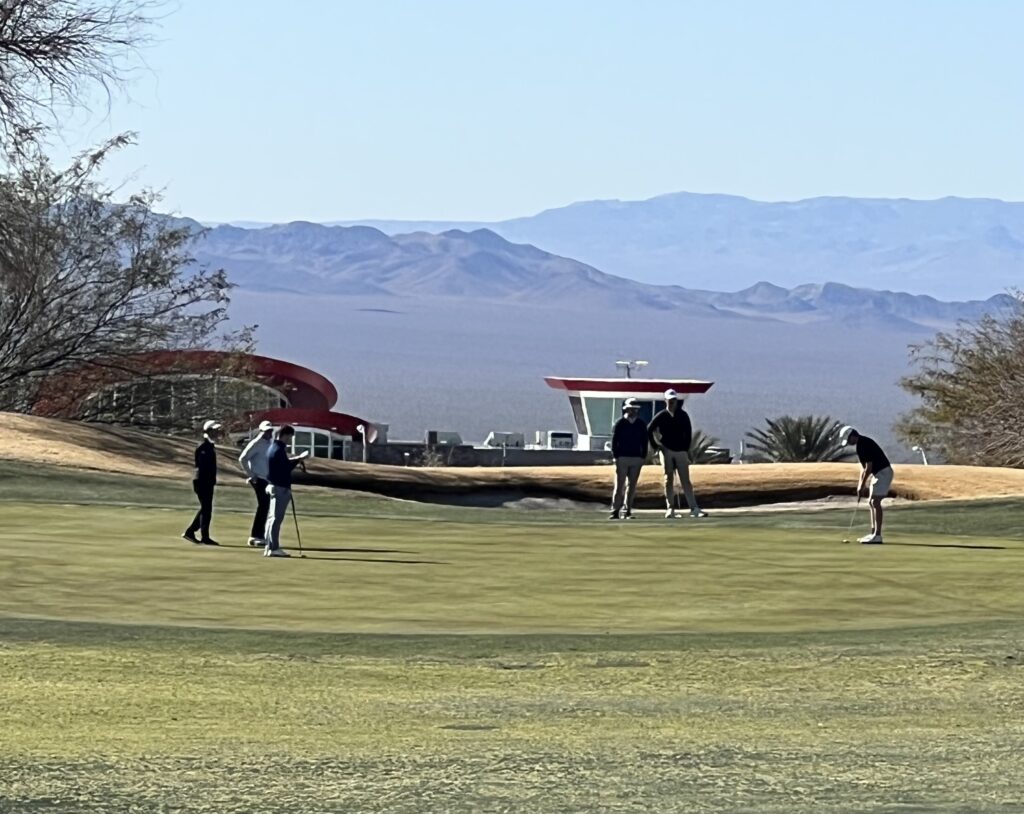 It was such a beautiful day that when we got back to the house Tracy asked me if I would like to golf the nine holes at Boulder Creek that the college students were not playing called Eldorado. With cold weather starting tomorrow, I jumped at the chance and Tracy and I were back at the course at rapid speed.  We managed to get 17 holes played when it became dark!  We played this course again on March 26.  All 18 holes this time.
For the next couple of weeks the weather still wasn't co-operating and I didn't do any golfing. We checked out a lot of stores in the "District" including Lululemon, Chico's, etc.
I am really enjoying having Vegan food here and it certainly is agreeing with me.  I am not quite 100% Vegan, however my only diversion has been some peanut butter cookies and one piece of Key Lime pie.  The main grocery stores such as "Vons" and "Smith's" carry a vast assortment of Vegan food.  Whole Foods is organic and Vegan.  There you can have a Pizza baked to order and ready in 20 minutes.  Just enough time to buy your groceries and pick the pizza up on the way to the cash-out.

Shopping for the anticipated surprise Birthday celebrations were in order before March 10 when Tracy, Lisa and I boarded a Lynx airline flight to Calgary for the weekend.
More to come.