The phone rang for this 87 year old. It was my daughter Colleen. She asked me if I knew the 2022 Alberta Seniors Ladies Championship was playing at Priddis Greens July 26 to July 28? I said yes, I had an email re the tournament. She said she thought I should play in it and she would caddy for me. I said I hadn't played in a provincial tournament since 2007 when it happened to be at Priddis. Also my game has not been good the past couple of years. She asked if I could play three days in a row and I said that wasn't a problem.
With the registration help from Colleen and the entry fee by Bridget I was in the tournament. Then I got to work on my game with my grandson Alexander via videos from LUXEMBOURG! Three visits to GolfFuture to hit balls from the second story with shots all recorded on a golf simulator. A couple of trips to a driving range and nine holes of golf at a Par 3 course (walking). My main problem over the years has been pushing the ball to the right, not slicing, just pushing. And other stuff needed fixing too especially stance, alignment and grip. I knew I had my work cut out for me I had not been playing good golf for some time.
I played a Practice Round on July 19 at Priddis, with two gals, Caroline and Tracy (who is playing in the tournament). Tracy was really helpful as she had played the course before, It was very, very hot that afternoon and we started playing at 2:05 p.m. Colleen caddied for me and checked my alignment, cleaned my clubs, and did all the stuff that caddies do! We four had a lot of fun and some good shots too.
Well now it is Sunday before the tournament starts on Tuesday.
I have done the physical changes that I hope will make for a more consistent golf game. Now it is time for me work on my mental game.
I don't like to dwell on negative happenings in my life and even in my outside world. It can make you miserable and it doesn't help you manage the situation. Even with this Covid pandemic I have always looked to how lucky I am even though I have spent a lot of time alone. The comforts and conveniences I have every day are a far cry from the conditions in "the dirty thirties" when I was young.
Golfing…. With positive thinking, you can take in the reality of where you are right now and create a positive solution for what to do next. Thinking in a positive manner no matter where you are can lessen your anxiety and help you make good decisions about what to do now.
The most important thing to remember is that you can control your thoughts to think about what you want to happen and ignore the stuff you don't want to happen. Yes, it takes time to train this mental process, however, it does work. See a positive picture and allow the rest to come together. Regardless of your level of ability, your body will do its best to create the picture you give it.
These are some of the ideas in positive thinking I try to follow, especially before a golf game.
Back to Sunday before the tournament. I get a video call from Colleen. She is in tears. She says, "Mom, I won't be able to caddy for you in the tournament. We have a major problem in Quebec and we have to go there right away. I'm so sorry, (more tears and sobbing), really sorry as I was really looking forward to caddying for you".
Oh I said that is so sad but you have to do what you have to do.
I called Bridget as I thought maybe her son, my grandson, would be able to caddy for me.  She took a few seconds to say he couldn't but SHE would come. Then she said she was coming to watch me anyway.  I said I wasn't surprised at the last statement as she loves to surprise people. She did to me once before in Phoenix and it was a total surprise with tears of joy!
The tournament was Tuesday-Thursday, July 26-28 and Bridget arrived at my door Tuesday morning at 9 a.m. and we were off to Priddis Greens for my 11:35 a.m.tee time. The Marshall told BK she had unlimited access on the course and that made for less walking for me. Perfect.
Tuesday morning we arrived at the course about an hour before my tee time of 11:35. After registering up on the second floor of the clubhouse and signing the 2022 Seniors banner we headed off to the range. This was up a steep hill from my golf car. The range is, of course, elevated a bit and has a spongy surface to stand on. Lots of good balls to hit. Bridget was right on when it came to me doing things right with grip, alignment and slowing down my swing. All tips from Reno.
We arrived at the first tee and Bridget received her Caddy bib.
I was happy to connect with the ball on the first hole!

We played with Winnie and Sandy on the first and second day. Really good people to golf with, kind, considerate, happy and fun.
The golf course is beautiful, the fairways are wide, the greens are quite big and fast. I hit some good shots and some not so good shots. Some good chipping and putting and some not so good. Bridget had my distance figured out really quickly with all my clubs. The main problem was I didn't listen. Well, my mind and body were still not synchronized. But by Thursday I had better control. I actually hit three sand wedges inside 12″ of the flag. In hindsight, I should have done the changes to my game two months ago not two weeks ago. However, I'm so happy now as on the whole my game is much improved. I just have to make sure my setup is correct.
The tournament was certainly well planned. We had the championship meal when we finished our round on Day 1. Each participant chose either salmon or chicken ahead of time and there was no waiting till everyone finished playing for us to eat. It makes sense to not have a banquet at the end of the three days as many have a long way to travel to their homes.
Alberta Golf (Priddis): 102 competitors testing their skills on The Raven course at Priddis Greens near Calgary this week in the 2022 Alberta Senior Ladies Amateur Championship. The event is for ladies over the age of 50, there are a number of flights and divisions, even 87-Year-Old Leslie Maureen O'Shea is in the field. Four ladies are within one stroke of the lead after round one including co-leaders Daniela Pacheco from Redwood Meadows Golf and Country Club and last year's runner-up Celina Lam from Woodside Golf Course. Pacheco shot an ever par round of 72 with 4 birdies and 4 bogeys.
The third day was my best day and I really felt energized. We played with Jo-Ann and Phyliss, two lovely ladies. The weather was perfect all three days. I want to thank Alberta Golf, John Deneer and all the staff for putting on a great championship. I would also like to thank everyone at Priddis Greens for having the golf course in fantastic shape for the tournament. Many people behind the scenes including the maintenance crew need a round of applause for all the hard work involved to present this course so beautifully.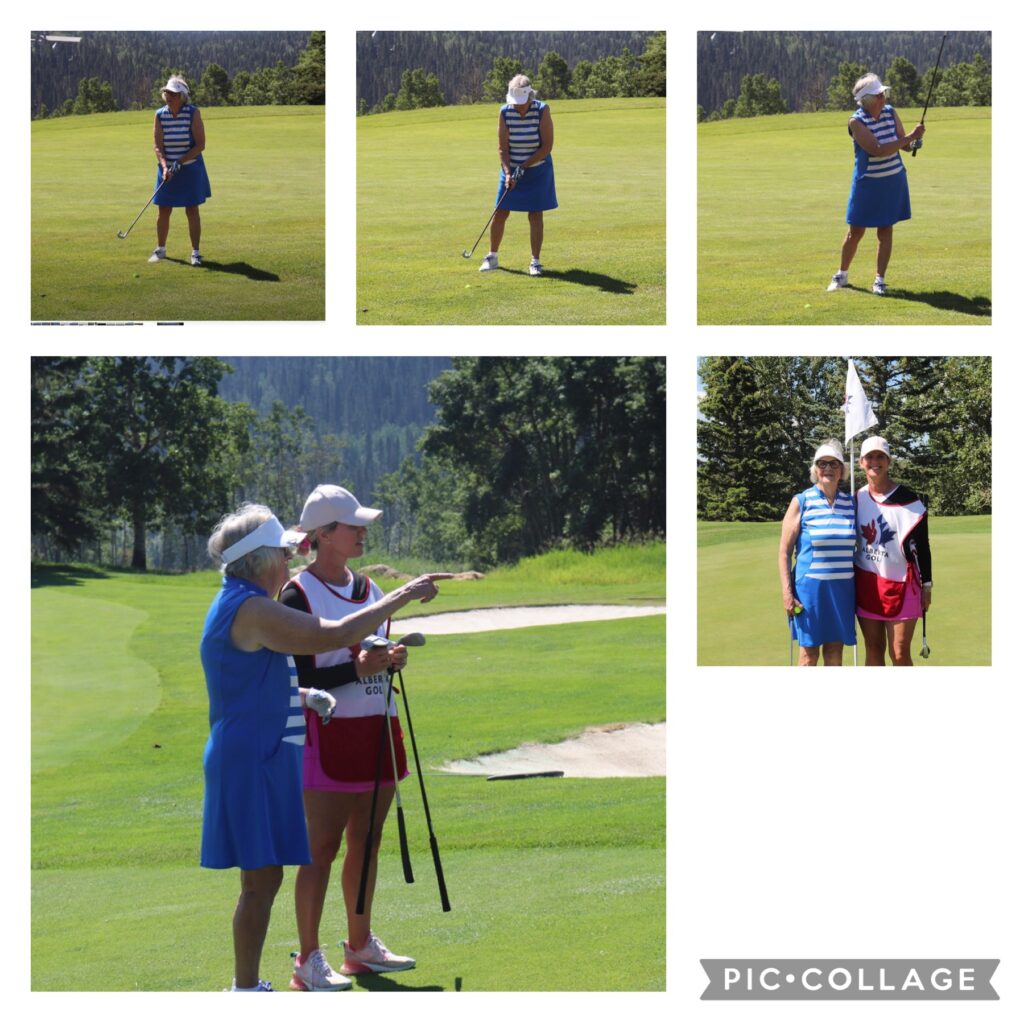 Truly CELEBRITY STATUS.