Another audit but this one is on FOOD
I know there are a lot of people that make New Years Resolutions, at least once in a lifetime, that is based on food. Some to lose weight and others just to make food more enjoyable. Many weight reduction resolutions fail and can be demoralizing. No need to make resolutions you many not keep. I've always found that I put on weight around the Christmas holidays and the winter months. Just wait till spring and it will disappear on the golf course.
For those who live alone it isn't easy to make meals for one person. Buying in bulk may be cheaper but unless you have a freezer this isn't practical. Everyone doesn't enjoy preparing three meals a day. This actually takes discipline but I believe it is the best by far for good health. Some form of exercise over and above all the running around you do to manage a home is very important as well. We know that exercise with weights help to maintain muscles.
No matter what others may say on the subject you can eat better. This is no secret. To eat a healthy diet mostly unprocessed foods, like vegetables, fruits, beans, nuts, whole grains, fish and maybe some meats. Eat food. Not too much. Check those portions on your plate! Calories do matter. Calorie reduction is VERY important for maintaining or losing weight. You may not know exactly what total calories are on a dinner plate but you certainly have a good idea if you have had a BIG lunch you certainly don't need a BIG dinner.
A lot of people don't enjoy grocery shopping. My Dad went to town (14 miles away) regularly for the mail. He also bought the groceries on my Mom's list. It wasn't until I was 20 that I bought groceries. After I married, Doc was adamant that we never bought quantity over quality. We did have an excellent grocery store, Lakeview Grocery (Kenny's) next door. To this date I still enjoy grocery shopping but putting the groceries away – not so much!
I've never been good at finding sales via coupons or flyers but I'm sure you can plan your meals using such tools. I personally like to go up every aisle (almost) in the grocery store. I do make a list of what things need restocking but I may or may not buy things on sale. Back in the 1960-1980's every Saturday we made trips to a certain bakery, a local butcher, a Dominion Grocery store (it had the best hot dog buns)! But now one store is one stop for me.
Every three months a trip to Costco has been the norm for many years. Not only for detergents, toilet paper and a rotisserie chicken are a must but chicken breasts, pork back ribs, steelhead trout and lamb chops I buy. Home and put chicken and lamb chops into small zip lock bags and along with all but the rotisserie chicken everything goes into the freezer. I like to buy a case of canned diced tomatoes as well. For special occasions I would also get beef tenderloin.

The first cook books I had were in the house when I married Doc. My Creamy Fudge Icing is from an Oilcloth covered a Blue Ribbon book.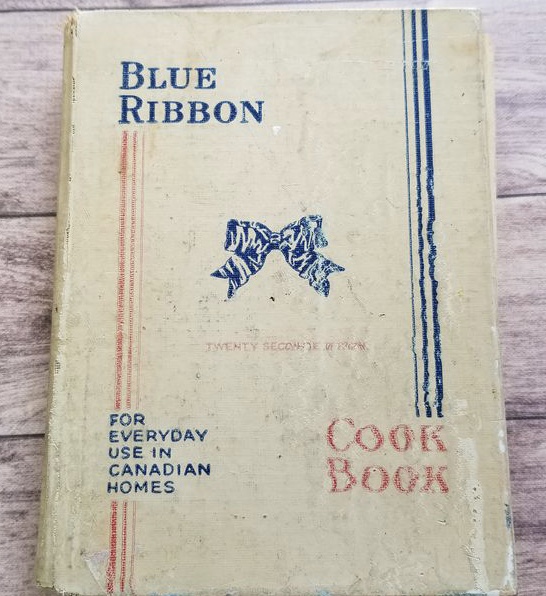 Most of my love for cooking began with the Best Of Bridge red book I bought shortly after it was published in 1976. A lot of my favorites came from "Winners" and "The Best of the Best". My pantry shelf has many, many of their books as I seemed to buy the newest one every year. Joy of Cooking is close at hand as well as a hard cover Canadian Living cook book.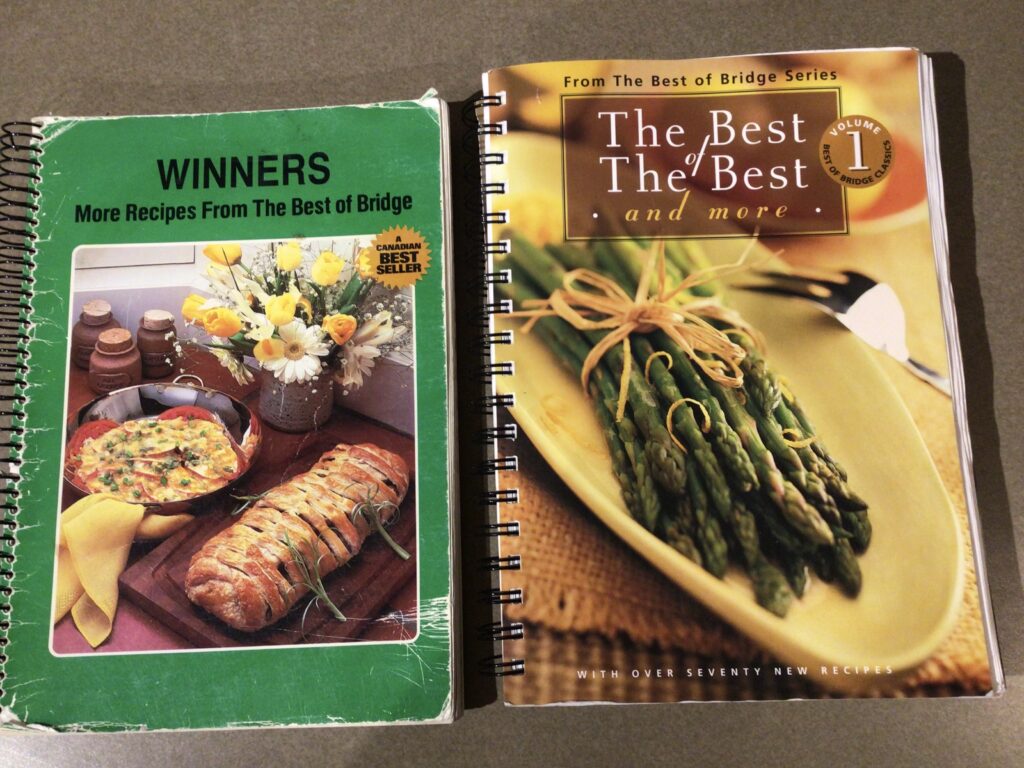 I still love to bake: buns,bread, banana loaves, pies, cakes and cookies. On special occasions Chocolate Cake and Lemon Merengue Pie. Please note that the feature image is a chocolate cake with creamy fudge icing and cut to serve.
I find making casseroles, soups and stews are the easiest way to always have a variety of foods to eat. When you live alone who is watching if you have the Chili three times in a week! Just have something else between servings! I like raw vegetables but some need cooking to taste good. There are a couple of thing I don't eat. One is romaine lettuce and the other is green peppers.
Breakfast in my books is the most important meal of the day. Get up, make coffee, do exercises and then eat breakfast…all before 8 a.m. Unless I'm going golfing at 8 a.m. it would then be earlier. Shreddies are my favorites although sometimes I will have oatmeal. The exercise from previous post written in 2017 still holds true today.
The Jane Fonda Fit & Strong DVD
Five years ago, I purchased a DVD by Jane Fonda called Fit & Strong. Fit & Strong contains two low-impact routines designed to build strength, burn calories and feel energized.  Each combines a workout and stretching routine that takes about 25 minutes. I wanted to do some weight lifting and I knew that if I followed Jane Fonda on my TV from my DVD I would be doing this properly. Now I have to admit that I don't do this work out every day but I keep a monthly calendar where I keep track of the days I do it – usually 3 or 4 times a week!
Jane is, of course, famous for her workout DVDs and having had a knee replacement, she had to make adjustments in her own life and passed these changes on to us in this DVD. I am not as strong as I used to be but I can do this work out with three pound weights and I FEEL STRONG AND ENERGIZED when I'm done.
Lunch is usually a sandwich, possible tuna w/onions and lettuce. And yogurt (Liberte in a litre – strawberry or mango).
Dinner will be chicken, pork or fish. Beef, not very often. Both lamb chops and pork chops I like to BBQ. Potatoes or rice, fresh steamed vegetables, and raw vegetables too.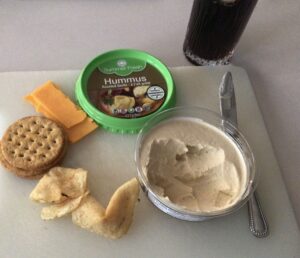 I am no expert on the subject but you have to put in some effort to eat properly. I can't say that a lot of my good health may just be in good genes. However I do think eating well balanced meals is just as important. I am lucky at 87 years old that I still have lots of energy to make meals. I sleep well and wake up feeling fresh with no aches or pains. Hopefully I can keep on cooking, baking and enjoying good eating!