To tell how I became friends with John and Roseline Weisshaar, I have to go back to how I first met John.  This story starts back to 1954 when I moved to Regina and lived in a rooming house at 2104 McIntyre Street.
Liz Mandryk, Leah Spicer, Hilda and Aileen Ottenbreit and a lady named Agnes lived on the second floor. My sister Marjorie and I were on the third floor. We all shared one bathroom on the second floor!
Liz and Leah had moved to Regina after they became friends going to High School in Wilcox.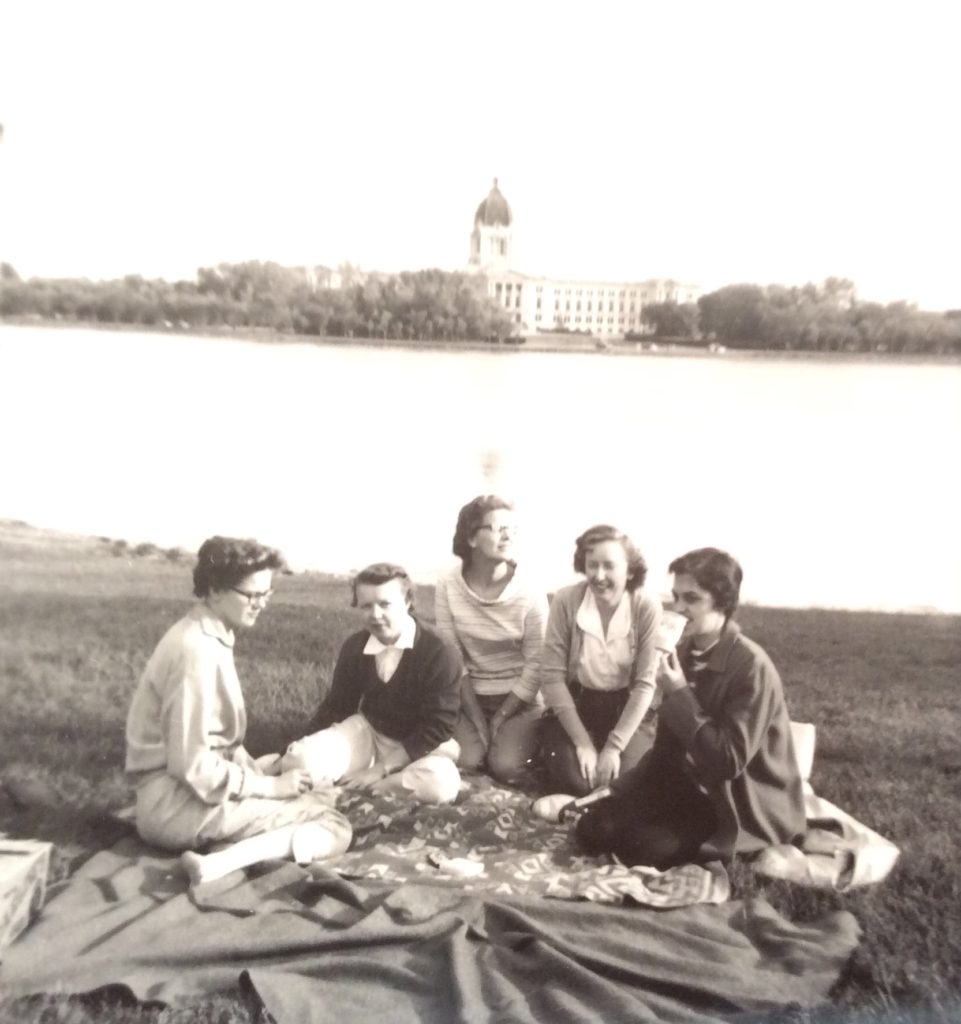 We spent a lot of time in Wascana Park in the summer months that year …..just even taking our dinners there to eat as it was really HOT in the house.  Apartment vacancies were almost never and we finally saw an article in the Leader Post that an apartment complex was being built on Hamilton Street.   We four girls put our names down for a two bedroom apartment to rent on completion. The apartment building was finished in 1955 and we were thrilled to take possession that Jubilee Year!
When I look back I realize that my connection with Wilcox started by knowing Liz and Leah.
I would have met John Weisshaar in 1955 as he and Leah were dating. And after we moved to the apartment John would arrive at our place to take Leah out, usually to a movie, at around 8:00 p.m. We would end up entertaining John while he waited for Leah to get ready. She would START by having a bath about 7:50 p.m. I remember one time, it could be when I went out to Wilcox with some friends from Imperial Oil that I ended up getting a ride home with John. It was late, maybe 2 a.m. when we arrived back in Regina,  almost daylight and we decided to go to downtown for breakfast!
And you know it was through John Weisshaar that I met my husband, Doc O'Shea on January 1, 1956.
Doc and John would have been friends since they were kids! I talked about curling at the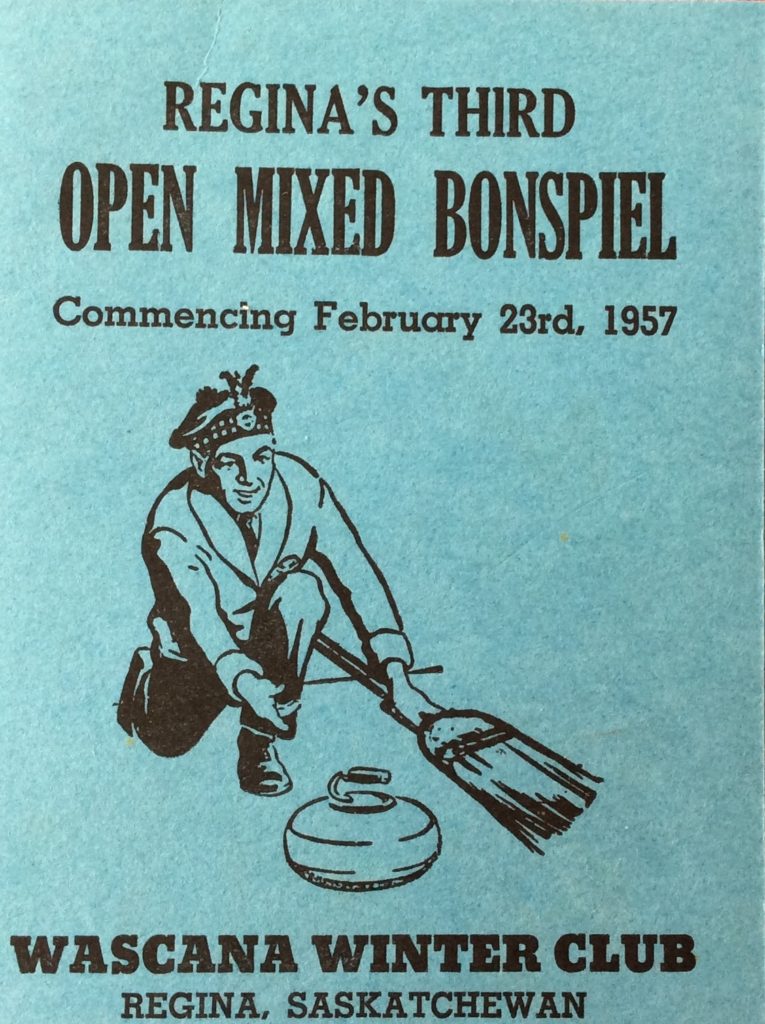 Wascana Winter Club with Doc, John Weisshaar and Leah Spicer in the post "Regina in 1957". I would be remiss if I didn't tell about meeting Bob Fleming at that time. When Doc picked me up for us to go curling I had already eaten but he had not. Anne knew Doc was going curling and dinner was waiting for him when we arrived at 2949 Cameron Street.
I was sitting on the brown horse hair sofa when Bob, who was two years old, came out of the kitchen, to see just who was in the living room. He had never seen me before, as far as he knew a girl named Kathy was usually the girl he had seen with Doc. He went back into the kitchen and came out with one of those 1" square yard sticks. He promptly cracked me across my shins and stood with his arms folded. Lucky for me Doc came from the kitchen and Bob high tailed it to his bedroom. I didn't tell Doc about my attack by a two year old till we were in the truck.
Doc and I met John and Leah at the Winter Club. Doc explained to them that I might not curl very well as I was a little sore in my shins. They all thought it was funny what had happened to me but I certainly didnt!
Back to 1958 after Doc had back surgery he was moved to the "O South" Ward in the General Hospital.  O South was a ward of 38 orthopaedic patients and Doc's Stryker Bed was on wheels so he would get the orderlies to wheel him to the main desk so he could use their phone.
He soon became both useful and a pest for the staff at the nurses station.  One very pretty nurse who he loved to tease was named Roseline. He kept bugging her to get herself a boy friend and she kept insisting that she wasn't interested.
So Doc took matters into his own hands,  He, of course, knew when her shift was over and she had gone home. He called Roseline on the phone and said, " Hi, this is John Weisshaar.  I am a friend of Doc O'Shea and I would like to take you to a movie tonight". Roseline agreed.  They started dating and the rest is history.
John was the best man at our wedding
and he and Roseline we're married the next week. Roseline, being a nurse, was concerned about the way her left leg was feeling. One of her Aunts was diagnosed with M.S. and Roseline knew some of the symptoms. She told John and he insisted they would fight this disease together.Roseline has been a real FIGHTER all these 68 years. She never stopped doing all the things she like to do like baking bread regularly. Never one to complain and not a bad word about anyone-that is Roseline. John and Roseline are my daughter Lisa's Godparents.
In all the years they lived in Wilcox, John was very involved with Notre Dame and especially Junior Hockey.  What a caring, considerate, helpful couple.
Monday of this week was a sad day as our dear friend John Weisshaar passed away.  RIP John you lived a good, long life.