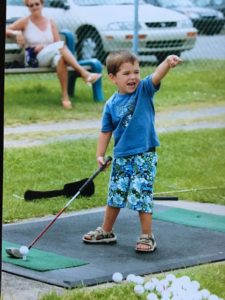 This week has been designated, "Grow the Game of Golf Week" in the USA and I thought I'd use some pictures my grandson, Nic, taken around 10 years ago, to talk about it and why I think it's a great idea.
Take Nic for example: you can see from the smile on his face that even young kids can love this game. I think he was about four when this series of pictures were taken. It's a love affair he's had with the game ever since he learned to walk.
Of course, parents can have a lot of influence on whether kids learn to golf or not, and sometimes their love of the game is easily passed on to their children. But there are lots of people out there who have never golfed before, who don't know what it feels like to hit that golf ball EXACTLY how you want to hit it, the feeling that's oh-so-good that want to have with every shot you make.
The high school Nic attends is participating in a pilot project for golf.  His school day is over by lunchtime and his afternoons are spent doing supervised golfing or golf-related activities. This "Sports-and-Arts Study Program" isn't limited to golf, of course, but golf has only been an option for the past two years. Other activities include hockey, basketball, tennis, baseball, figure skating, gymnastics (painting, sculpturing, guitar, violin, piano, voice) – I'm sure I'm missing a few. Instruction is given inside whatever venue is needed for the particular sport or activity. Last fall, for example, the golf courses were open until mid-November and on the 15th of that month, their training moved indoors to a sports centre equipped with mats, nets and simulators. "They" is a group of 6 students, all supervised by a golf pro.
None of these activities are free, of course — they come with a cost to the parent(s) and/or guardian. And to keep on having your afternoons to pursue the activity of your choice, your school grades need to be good. The end-goal of this is to be able to get scholarships or bursaries at the University level, so grades go hand-in-hand with performance.
Nicolas is proof positive that this program works as his studies have not suffered with half days in the school room.  He is an honour student and, at 15 years of age he plays to an Handicap Index or Factor of 7.9.  Actually it is called an Index in Canada and a Factor in the USA.
Maybe you have similar programs in your province.  Let me know in the comments on my blog, please.
Another way to grow the game is by giving free lessons and golf memberships to juniors — and that's exactly what's happening at the golf course where Alexander and Gregory — two of my other grandsons — play. An approach like this doesn't just introduce the game of golf to youngsters, but it will, hopefully, encourage their parents to take up the game as well.
What a great idea!  
Back to Nic and this series of pictures to show how a five year old can be in love with the game with his first trip to a driving range. 
There are many ways to get your child or a friend interested in golf.
Take a friend, take a youngster, take a grandchild out to a driving range.  Show them how much fun you have hitting that little white ball.
Introduce them to a golf teacher, a Pro or Assistant Pro — and encourage them to take lessons if they're at all interested in the game.
L the first association to the game FUN.  Kids after five years old like to win.  So make up a little competition on the putting green.
Golf is a game you can play for a lifetime.  You may never be a great golfer but you can be a good golfer. AND if you travel, you can always find a golf course to play and join others as a single player. I have golfed on a regular basis for 33 years and have met wonderful people just booking a tee time with total strangers.
Wouldn't it be great to have more athletes from Canada participating in both the PGA and the LPGA and the Olympics?  SouthKorea has a fantastic program for the development of golf for their young girls that is second to none. Check the number of members from their country on the LPGA Tour.
We need to do more to make the game grow in Canada.