My niece, Deborah Rowbotham, is a member of the Dundas Valley Golf and Curling Club, in Dundas, ON.  This year her club added a new set of tees, ahead of the forward tees. The forwards, designated by yellow play to 5486 yards and were to be used by ONLY the ladies!  The forward-forward tees are red and will play to 4,050 yards.
The course rating for the yellow tees is 71.3  and the rating for the new red tees is 64.1 and perhaps the slope will be less than the 124 of the yellow tees.
I asked Deborah to give me the lowdown on playing the new tees. She was keen to tell me.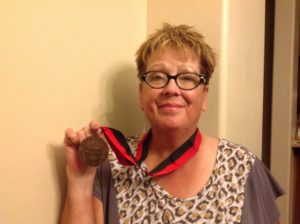 From Deborah – "I am really enjoying the new forward tee boxes. They are, for the most part, set up in great spots although not always on completely level ground. I am sure some fine-tuning will still be made.
It has made it a lot easier for me to play without having to climb to some elevated tees and also not have to lay up when my tee ball is not long enough to get to the flat spots on many holes. This is a valley course where the difficulty is in the terrain rather than water and sand."
"So many of the members are seniors and this will extend their ability to play the game competitively and with much more enjoyment, after all that's what it's all about! Hopefully more courses will follow suit!"
I spoke to one of the Assistant Professionals at Dundas Valley, Aaron Hill, and he too is excited about the concept of the forward-forward tees at their club.  We both agree that enjoying a round of golf is what keeps players coming back to a course.  And beating yourself up with a high score from a difficult tee box is no fun at all.
Yes, there are many executive courses around and even several Par 3 courses where you can hone your short iron and chipping skills.  However, there is something exciting in playing a course with up to six sets of tees.  Just go up on those WAY BACK tees and see what it would be like to hit the ball a long way, like Dustin Johnson did the other day!  Then go and play the tees that you can gross 78, 88, 98 or even break 100 for the first time. You'll find you can score better when you put your ego in your pocket and play from a shorter distance on practically every hole.
I have seen both men and women play on courses that were WAY too long for them, even from the forward tees.  The men almost always head for the white tees to play from.  If they would only look at the scorecard and pay attention to the distance of all the Par 4's, they could make a better choice as to where they should hit from.
The Par 4's?
Yes, the Par 4's.
If you can NOT comfortably be on the Par 4's on that course in two shots, you should be playing from a shorter distance.  Check out the forward tees.  They have been mis-named "the ladies tees" forever and they are NOT for ladies only.
Now the Seniors and the Juniors will have a place to play from at least at the Dundas Valley Golf and Curling Club. The juniors are, of course the future of the game, but the seniors have the purchasing power to buy tee-times and memberships and adjusting the courses to their diminishing distances is a great move for any course. Accessibility is key.
I don't know the statistics of how many golfers who play on a regular basis are seniors. Over 50. How many golf architects even think about seniors when they design a course? Most are designed for bombers of the ball, which I think is too bad. One major problem is accessibility to tee boxes and greens. Some courses you would do better accessing these if you were a mountain goat!
Now there are a couple of courses that are famous in Canada. Both are rated as among the greatest places to play! But I have an issue with both of them. One has a railing on many holes between the cart path and the golf hole. Yes, there are openings — but these openings are never where your ball is located! If you have any kind of mobility problem (knee or hip) this is not a friendly course. Anyways, their fairways are off limits, always cart path only.
The other one has a Par 5 from hell! It is uphill all the way and when I played it the landing area for both my drive and three wood had drainage problems (most likely there are springs under the fairway) and one par three that is over a canyon, uphill and needed a three wood to carry to the green.