The road trip is officially on.  Goodbyes were made in Woodstock and Suzy the GPS gal got us with a bit of left turns here and right turns there to get to the the 401 to London, Ontario.  It was busy with the usual semitrailer traffic and cars, but before we knew it, we had passed London and were on the 402 in the direction of Sarnia, Ontario.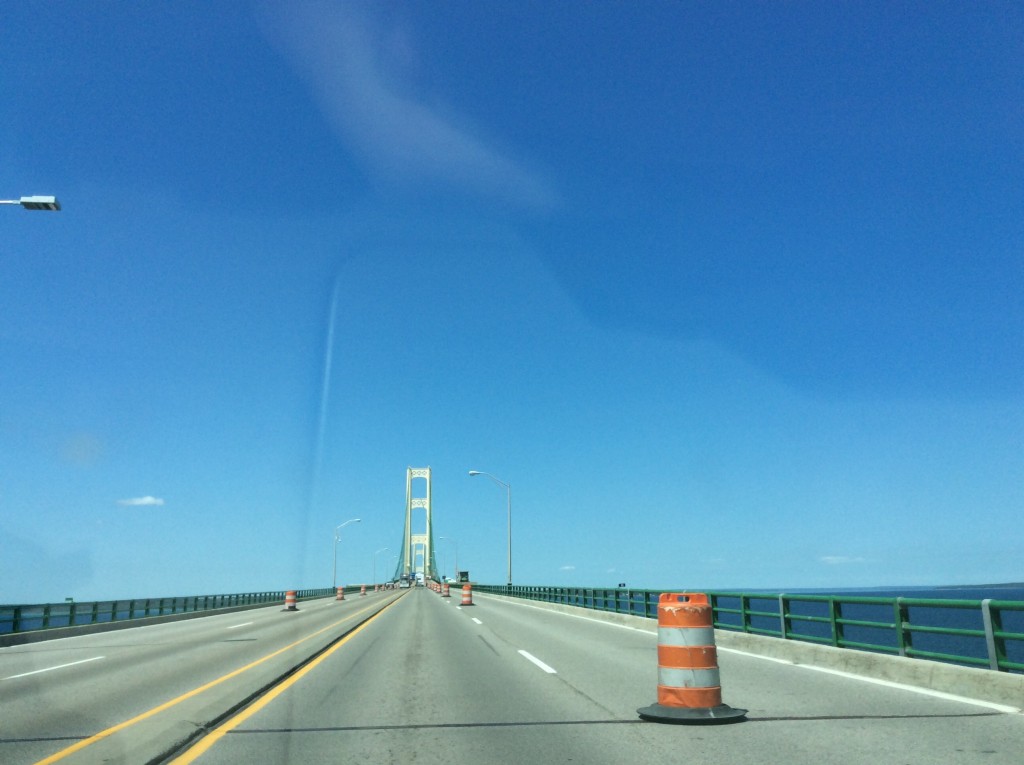 Now we do know the Americans like to do things up big – and BIG is exactly what I'd call the new bridge to Port Huron that is not quite completed yet. It was a fifteen-minute wait to get through the border control and into to the USA; then a 20-mile stretch of construction greeted us on our arrival in Michigan.  The two lanes of eastbound #69 are being replaced, so we had the westbound lanes carrying two way traffic.  It was very slow: the speed limit was 55 mph.
Now Flint, Michigan has a #475 by-pass and that was a pleasant surprise because we got on it and before we knew it we were northbound on #75.  We stopped near Saginaw to have our picnic lunch and talk to a seagull.  The Mackinac Bridge was being repaired and I could not recognize it as I had not seen it since 1965 when it had just opened. My oldest daughter was five when we first went over it: there had been a boating accident and a mother and her two children were lost. As we drove over the bridge, she remembers trying to look for those children in the choppy waters below.
Ruth and I am very excited about our road trip adventure.  We take turns driving every hour or two, and we've found that this old Oldsmobile has a favourite speed she likes to be driven at, and for this old girl, 78 mph just isn't her speed. She likes to cruise at exactly 69 mph – not 68 or anything over 70 – so we are certainly not getting any attention from the Highway Patrol!  Neither of us are scared to be out driving on the highways and byways, but we are careful to know our surroundings – especially when we are stopped for gas or the occasional Coke. Coke you say? The caffeine keeps us alert!
I am so impressed with Highway #2 from St. Ignase to Escanaba across the Upper Peninsula of Michigan. It is a beautiful, wide highway with a surface as smooth as a baby's bum.  With the water close by on the left for 146 miles it was a pleasure to drive next to.  Trees lined the right-hand side the entire way.  Although it's only two lanes wide, there were 12 passing lane sections and they always seemed to be there when we needed them.
We checked into the hotel and went to find dinner, which was found it was in the name of Stonehouse.  An impressive building, outside and in.  A 30′ long glass display case with lights is a showcase for cars, cars and more cars.  This is in the bar area, but there is only one TV so it is not what you call a sports bar.  The dining area is large with white tablecloths and is nicely separated from the bar.  We were lucky to get the last spot in the big parking lot so we were pretty sure the food would be good.  It was more than good and a exceptionally good selection was on the menu.  We opted for a fresh fish medley and New Zealand lamb chops with double-baked potatoes and salad.  So yummy you would not believe.
Lori, the waitress at Stonehouse gave us the names of three golf courses to try out tomorrow. The Sweetgrass Golf Club has an Island Green and looks exciting on their website, so it just may be the one we choose to play tomorrow.
After dinner we drove downtown and found the downtown area has maintained its sea side attractions.  There are many little stores and boutiques and I took a picture of one that really popped out: the Swedish Pantry with it's blue and yellow colours just like the Swedish flag. The Swedish Pantry looks to have most everything in it and baked goods too and advertises itself as having "The Best Food in Town"!
The park overlooking the bay is beautifully kept and has lots of benches, which I've posted pictures of at the top of this post.