Canada, of its own free will, entered WWII on September 10, 1939 because it then realized that Nazi Germany threatened the very existence of Western civilization. I was not quite five years old at the time and although I didn't understand the magnitude of war, I remember being afraid. I had a special bond with Gordon who was such a loving big brother to me. It was his guitar playing and song singing that gave me a lifetime of love for music. AND he had enlisted in the Army and was going away, far away to fight a WAR. I was so happy when the war was over and he came home. Gordon was a very proud Canadian and never missed a Remembrance Day service.
Gordon was not the only one to serve in our family. My cousins Roger Stone and Chester Holmlund joined the Air force.  Of the three Chester was the only one to never come back home.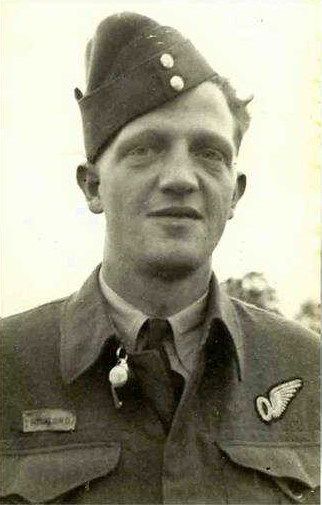 Pilot Officer Chester Allen Holmlund
Chester Allen Holmlund
In memory of:
Pilot Officer Chester Allen Holmlund
February 25, 1945
Military Service
Service Number:J/93868
Age:22
Force:Air Force
Unit:Royal Canadian Air Force
Division:
298 Sqdn.
Additional Information
Son of Ezra and Gertrude Holmlund, of Outlook, Saskatchewan
Burial Information
Cemetery:
RUNNYMEDE MEMORIAL Surrey, United Kingdom
Grave Reference:
Panel 280.
Location:
During the Second World War more than 116,000 men and women of the Air Forces of the British Commonwealth gave their lives in service. More than 17,000 of these were members of the Royal Canadian Air Force, or Canadians serving with the Royal Air Force. Approximately one-third of all who died have no known grave. Of these, 20,450 are commemorated by name on the Runnymede Memorial, which is situated at Englefield Green, near Egham, 32 kilometers by road west of London.
War Effort
By this time, World War II was in full swing, and girls were being encouraged to help with the war effort. In 1941, Georgie and our cousin Marion went to a technical school in Saskatoon to learn about machinery. "Rosie the Riveter" was the poster girl at the time, showing that girls could do what any guy could do. After their course, the two cousins went off to a job in Hamilton, Ontario where they worked for Westinghouse for a year, assembling anti-aircraft guns and having the time of their lives. They wore pants! had lunch boxes and could even stop in a bar and have a beer on their way home from work.

The two gals at the top of this collage are my sister Georgie and our cousin Marion before the two of them left for Hamilton. In the original picture below are the 16 daughters of the three Stone families: my Dad Peter/Thea (6), his twin brother Paul/Beda (5) and their younger brother Charlie/Laura (5). This picture was taken in 1939.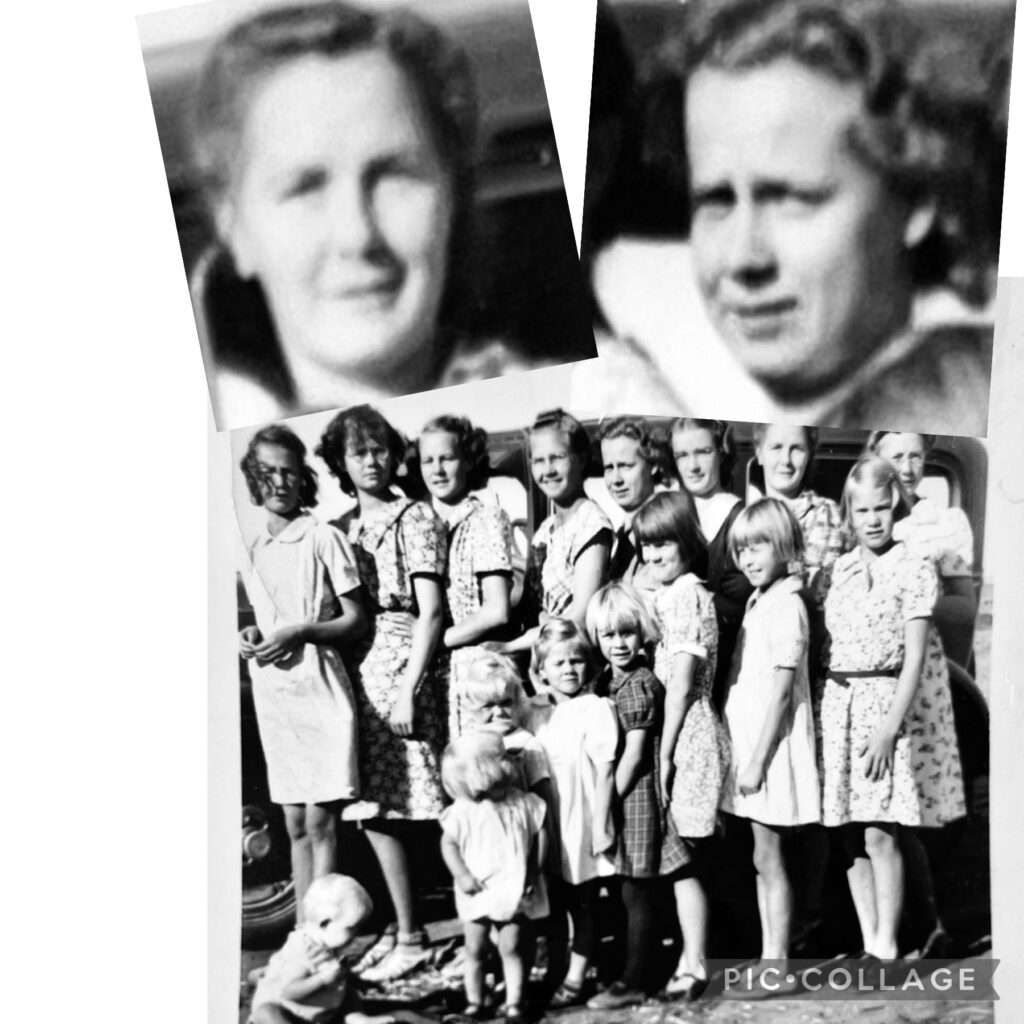 Stafford School
My sister Verna was also our elementary school teacher for a couple of years. I'm quite sure she taught us to memorize Lieutenant-Colonel John McCrae's 1915 poem, "In Flanders Fields." I can still recite it to this day.

In Flanders Fields
In Flanders fields the poppies blow
Between the crosses, row on row,
That mark our place; and in the sky
The larks, still bravely singing, fly
Scarce heard amid the guns below.
We are the Dead. Short days ago
We lived, felt dawn, saw sunset glow,
Loved and were loved, and now we lie,
In Flanders fields.
Take up our quarrel with the foe:
To you from failing hands we throw
The torch; be yours to hold it high.
If ye break faith with us who die
We shall not sleep, though poppies grow
In Flanders fields.

John McCrae
1872–1918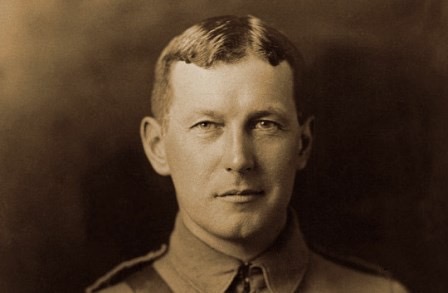 Born in Guelph, Ontario, Canadian poet, soldier, and physician John McCrae earned his undergraduate and medical degrees at the University of Toronto, where he received the Gold Medal. As a physician, he worked at Toronto General Hospital, Johns Hopkins Hospital, McGill University, the Royal Alexandra Hospital for Infectious Diseases, Montreal General Hospital, and the Royal Victoria Hospital in Montreal. He served in the Boer War in South Africa as an artillery subaltern in the Canadian Contingent from 1899 to 1900, was promoted to the rank of major in 1904, and reenlisted in the First Canadian Contingent soon after the start of World War I. McCrae became a member of the Royal College of Surgeons and was the first Canadian to be appointed consulting surgeon to the British Army.

McCrae's well-known poem "In Flanders Fields" memorializes the April 1915 battle in Belgium's Ypres salient. For 17 days, McCrae tended those injured in the battle. The poem, written after the death of a close friend, was first published in Punch magazine and led to the adoption of the poppy as the Flower of Remembrance for the British and Commonwealth war dead. McCrae wrote several medical textbooks during his life, and his poetry was posthumously gathered into the collection In Flanders Fields and Other Poems (1919).

In 1915, McCrae was transferred to Boulogne No.3 General Hospital to oversee medicine. He worked there until his pneumonia-related death on January 28, 1918, at the age of 45. McCrae was buried with full military honors in Wimereux Cemetery near Boulogne, France. His family home in Guelph is preserved as a museum, and the main street in Wimereux is now named Rue McCrae.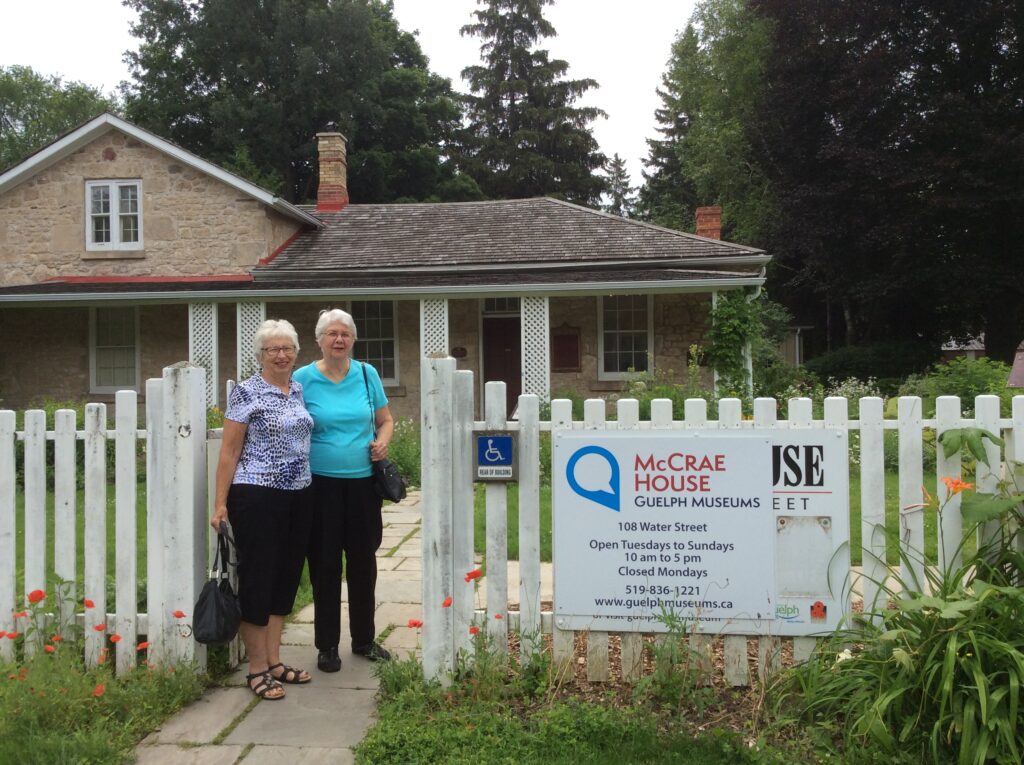 Ruth and her friend Jean in 2015 when the three of us visited the McCrae House.
WWII Records
In all, some 1.1 million Canadians served in the Canadian Army, Royal Canadian Navy, Royal Canadian Air Force, out of a population that as of the 1941 Census had 11,506,655 people, and in forces across the empire, with approximately 42,000 killed and another 55,000 wounded.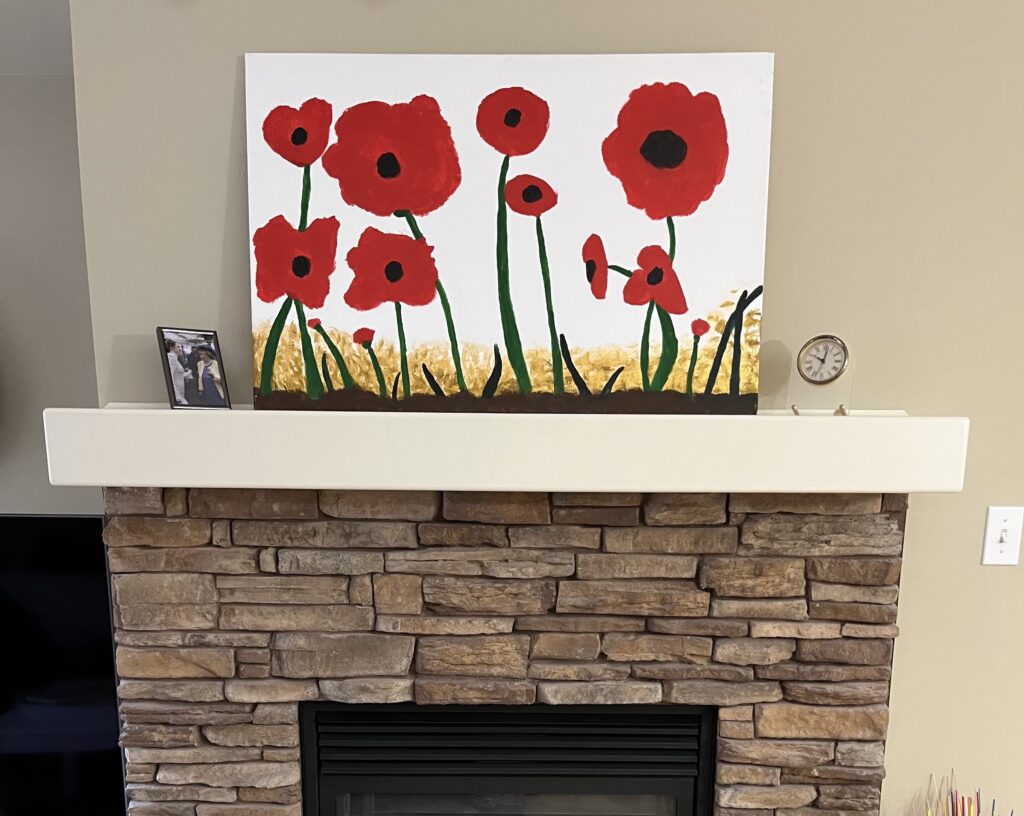 Mats and Lily, my grandkids, helped me paint the poppies in 2018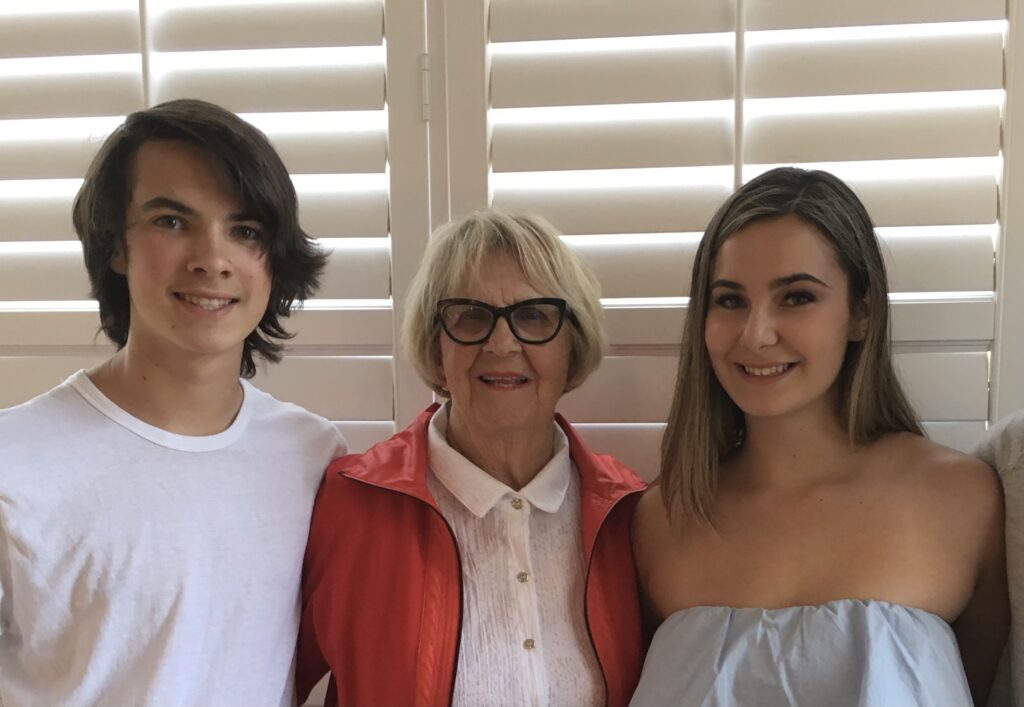 We must never forget all who served and those who gave their lives for our freedom.