There are many friends of mine that I met through Notre Dame. One in particular is Claire Quinlan. I met Claire for the first time with Bill Gibson who was President of the Notre Dame Alumni (Sask Branch) and I was Treasurer of this association. Maggie Chartier (a long time supporter of Notre Dame and a member of the Alumni) was also at this meeting at the restaurant in the Vagabond Hotel. We knew Claire had worked at Queen City Bingo and we needed someone to manage our monthly bingos held to raise money for the Notre Dame Alumni Association. From this meeting Claire became our Bingo Manager. We and many other volunteers worked together.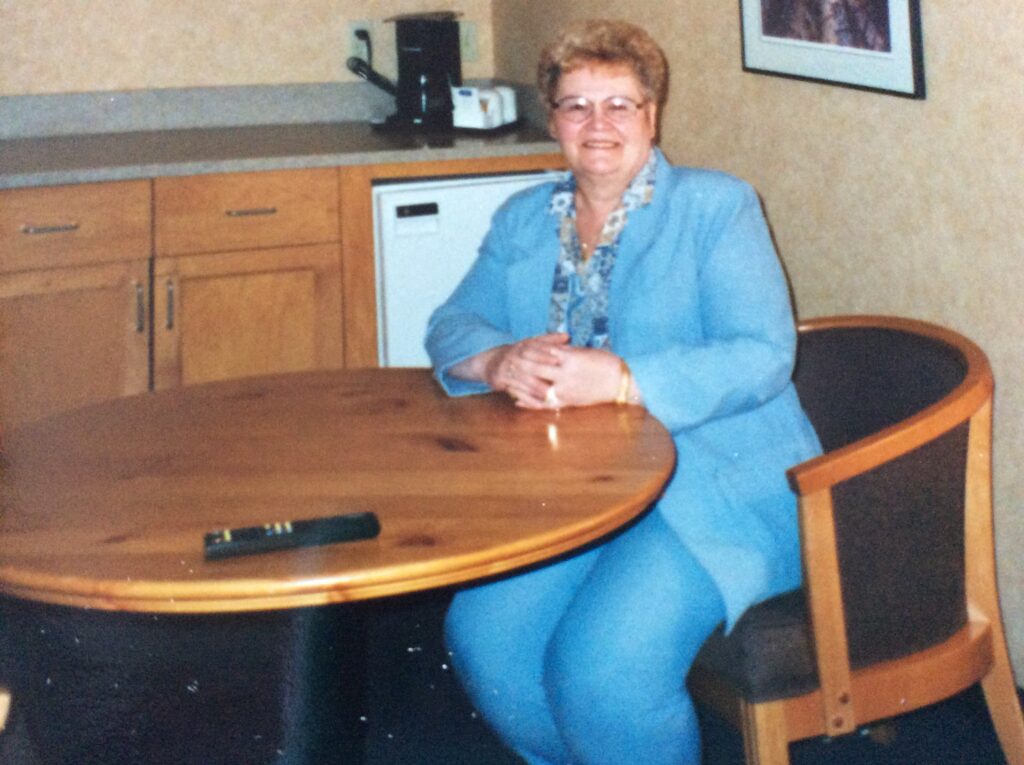 Later on when she was managing the Howard Johnson in Canmore I worked there cleaning up a mess in the accounting department. The previous accountant had an unmanageable chart of accounts of approximately 300 and this needed to be minimized to approximately 30. I also needed to set up departments to categorize all expenses. I was surprised at how much I liked being that close to the mountains as I had found them to be only massive rocks. There is such a beauty to the wintertime with the soft white snow and very little wind that I had never experienced on the prairies.
I met Dick Wingate through friends from Notre Dame. He sometimes worked with the Notre Dame "gang" raising funds for the Notre Dame Alumni Association. His son Jordan had attended Notre Dame. We went to Elbow to golf with Bill Gibson one Sunday back in the 1990's. He moved to Calgary before I did and we still keep in touch. We are both liberal minded and positive people so although we don't have many golf games together we talk on the phone often. Dick went to Kelowna to work for a year and rented out his house while he was gone He came back to Calgary before the year was up and stayed at my house till he cold get back into his own home. It was great having him in the house as we got along really well. He likes to cook, to keep a clean house (especially the kitchen). We are good friends.
A dear friend of mine is Bev Townshend of Regina. Although I didn't meet her through Notre Dame she is originally from Wilcox. I met her through Lucey and realized that she worked at my bank, the CIBC in Southland Mall. I knew about her family farm north of Wilcox as they were big Angus cattle farmer/ranchers. One of the fun things that Bev and I did was to dress up as a couple to attend a Regina Ballroom Club Halloween Dance. I borrowed a man 's jacket and pants and wore a cap that was Doc's "Chauffer Cap" and tucked my hair up under the cap. Nobody had a clue as to who we really were and we had a hoot. Bev came to Alberta and lived with her brother in Airdrie for one year and we spent quite a lot of time together. I went out and stayed there several times when her brother and family were gone to Mexico. Bev has one of the best "green thumbs" and made her brother's property into a beautiful yard. After she returned to Regina you would be amazed at what I would call her "English Country Garden." I really admire her for getting out of the corporate rat race in the financial market and now retired.
Then there is Lucey. Flamboyant Lucey. I met her for the first time at the Tor Hill golf course. She and Marita joined our business section. As with all new members we paired them up with members who had been with the club for awhile to show them the ropes. Lucey and Marita golfed with me their first time at Tor Hill. Lucey was keen to be a great golfer. She had taken lessons for about five years before she set foot on a golf course. We golfed together whenever possible. Lucey and I went to the Regina Casino one night in the summer and decided to walk to her place in Albert Park. We stopped in at the Jazz Club and listened to a few numbers and then went on our way. It took us at least an hour to walk to her place but it was such a beautiful night that we enjoyed every step.
Harlow and Pat Way came to Regina in 1957 and it would have been through Paul and Faye Christiansen that we became acquainted. I know that although Doc's dancing was mainly to walk around the floor, Faye always made a point of having a dance with him at the IOL dances. Harlow knew that Doc was operating Sky Chief Texaco and he patronized the service station. Their Rambler station wagon was in need of a new engine and when they installed it the only radiator they could get for the car was too small. The Way family was heading back to Calgary in time for the Stampede and Doc decided we should go with them to ride "shotgun" in case there were problems with the car. The day started out nice and warm but it turned quite hot and Harlow had to keep the heater on to keep the car from overheating. With the windows open the car was really "hot. When we got to Brooks to stop for gas at a full service station and before anyone could warn the attendant he opened the hood of the car. He took the cap off the radiator but luckily no one was burned as the geysers as Yellowstone National Park had nothing on the hot gushing water from the Rambler. I know we went to a bar, perhaps in the Palliser Hotel, and of course I talked the band into sing-along songs.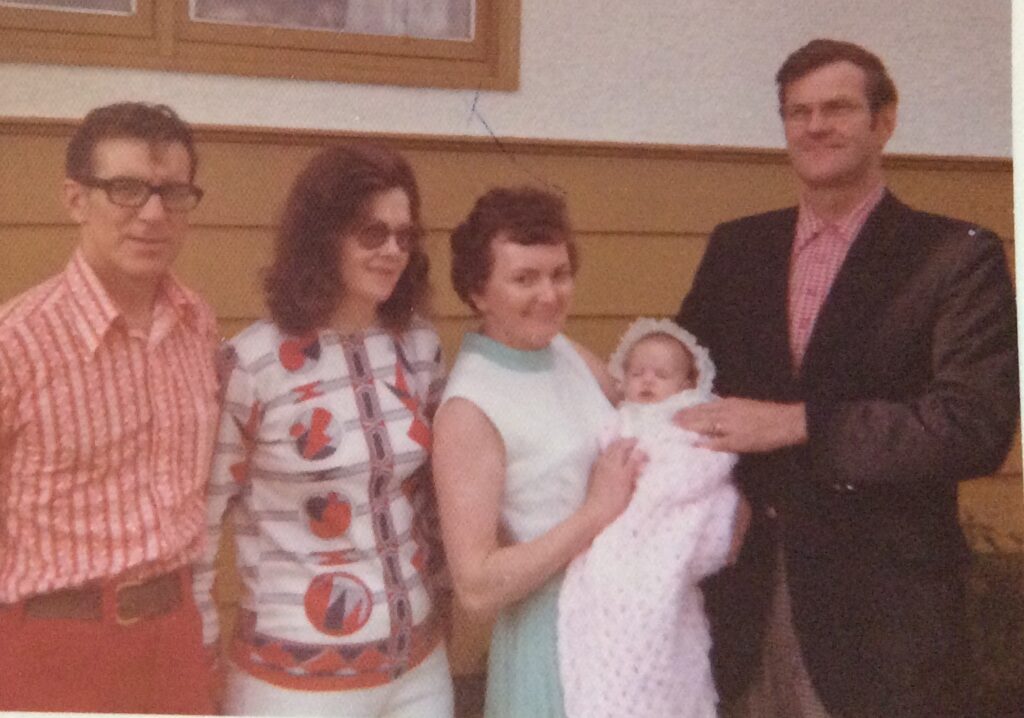 We had a lot of fun with Pat and Harlow while they were in Regina. Pat and Harlow were down to earth people and with four, then five, then six kids it was a real loving family. When our daughter Bridget was born they were our first choice for Godparents.
One time we all went to Mass at the St. Augustine Church in Wilcox and Pere gave his sermon on the importance of family. I'm sure he hadn't thought of this for a topic until he saw us come in with the Way "family." Sheila was the first blonde kid in the Way family! I seem to recall that she was always getting into some kind of accident and Pat took her to the E.R. many times in her first few years. I think she had something like 52 stitches to tie up her wounds in one year.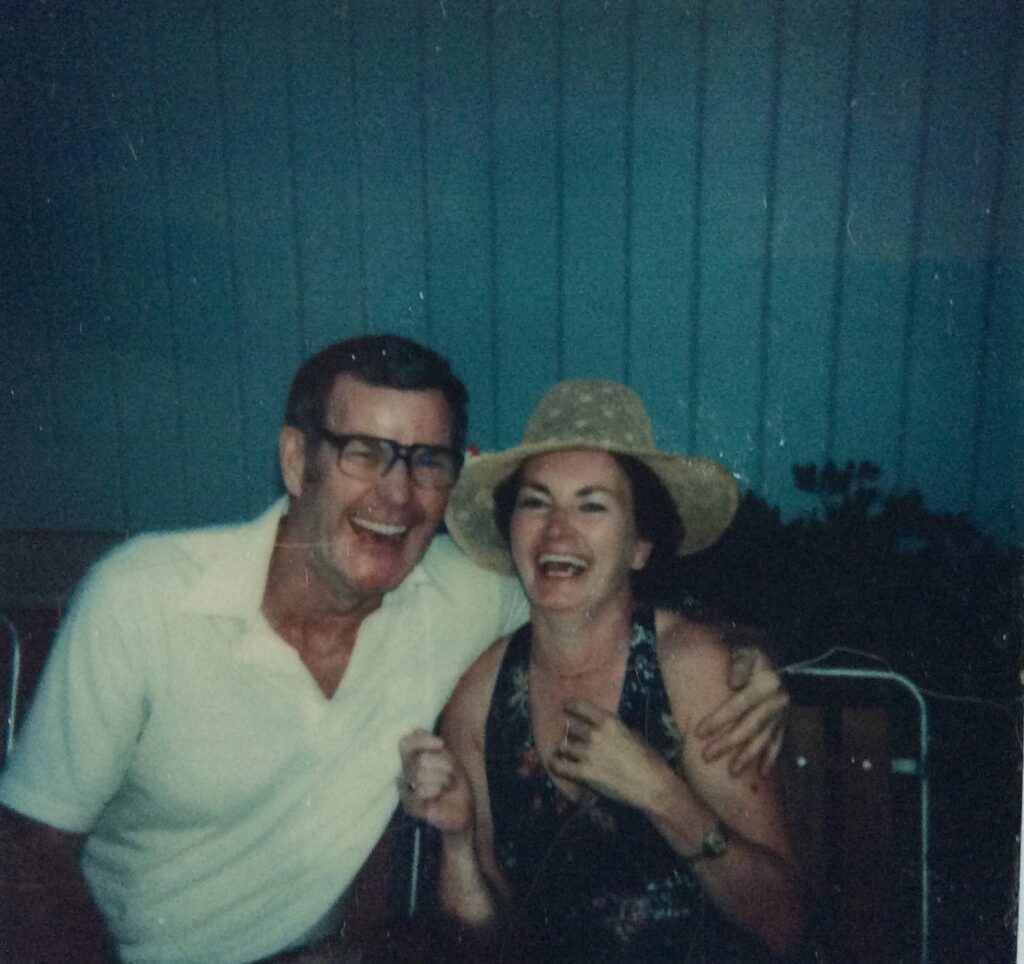 I remember one time when Harlow was doing a roast on the BBQ. BBQ's were not all that well built back in those days and the spit came apart and the roast rotated in the coals. It was quite burnt on the outside and really good on the inside. It may have helped that our appetite was intensified by a couple of drinks before dinner.
In the late 1960's the Ways moved to Edmonton and then later moved to Calgary. We drove to Calgary tob
I know we drove to Calgary to attend weddings three times from 1978 to 1981. We had a lot of fun at these weddings. Doc especially had a good time visiting Pat's Mother. Pat is no longer with us but I keep up with the Way's: Cathy, Linda, Greg and Sheila on Facebook.
More to come……