I have taken many a trip that was on the "spur of the moment" and this trip was not quite one of those. But let's say there was not a lot of planning except for the starting date. After all we had the whole month of October to be away.
My niece, Deborah, was retiring after a 33 year career, mostly spent in the Children's Oncology wing of the McMaster General Hospital in Hamilton, ON. It was her idea to arrive at my place the end of September. We would then pack up my car with golf clubs etc. and eventually end up at Sky Mountain, UT where we had a condo rented for the last three weeks of October.

I had made reservations at the Coeur d'Alene Resort for a two nights stay and a tee time to golf at the course. You may remember my Island Greens post as this golf course is renown for its MOVABLE green.
I remember the first day how excited I was show Deborah the Alberta foothills as we headed out west past Bragg Creek, Turner Valley, Black Diamond (home of one of our favorite Canadian singers Ian Tyson) and down to Crowsnest Pass. Fall in the foothills is so beautiful on any day but this day was a palette of the changing colors in the trees as it was a bright sunny day.
Summertime is always a time for road construction in Canada and this day was no exception. Although we were stop and go most of the time that afternoon there was so much to see. From Crowsnest Pass past the rubble that was once the town of Frank. The Frank Slide where over 90 million tons of rock slid down Turtle Mountain and between 70 and 90 residents were killed, most of them buried under the rock. We headed west past Cranbrook, BC to the border crossing into the USA at Eastport. There was only one car ahead of us at the customs window so we were quickly on our way.
Our stay at the Coeur d' Alene Resort was fantastic. With a tee time of 9:30 a.m. we were up early to have breakfast at the golf course. A wonderful day of golf on a fantastic course.
After golf we decided to see if we could find the Coeur d'Alene Casino. I knew it was south on Highway 95 and in 27 miles we took the overpass to our destination. Well it wasn't that simple! By this time it was dark. Not only was the exit from the overpass under construction but the whole entrance/parking lot was too. It took us quite some time to find a parking spot and once inside we were ready to leave! It was so crowded that we felt uncomfortable so we headed back to the resort. With all the construction and cars going every which way we couldn't find the entrance to I-95. Our GPS (we named her Suzy) kept telling us to take Highway 58 so we started out on this narrow two lane, and Suzy kept telling us to stay on it. We could see the interstate highway but of course we knew the only access was at the Casino. Finally after a couple of miles I saw a road going out into a field. I took the road and turned the car around and coming back on this highway the exit to I-95 was clearly marked. We were back on I-95 for five minutes before Suzy "recalculated" herself to be back with us! Deborah and I had a good laugh on the way back to the Resort.
The next morning we had breakfast at the golf club and went west on I-90 passing through Spokane, WA and headed south west on I-82 and stayed overnight at Kennewick, WA at the Fairfield Inn. As with many Olive Garden locations, it was right next door. We had good food after a short wait!
Westward we headed to Portland where we hooked up with I-5 driving south. In no time at all we were at Terry and Eva's in Eugene. Eva loves to cook and by dinner time she put on a feast of Chinese food fit for a king, queen or the the whole royal family. Oh, so good. We were stuffed, no kidding. After dinner Terry was off to his job of driving a train on a overnight shift. It was pouring rain when we checked into the Hampton House . We were tired after a long day and were asleep before we got the lights out!
Our next day was just a few stops as we drove from Eugene, OR to Eureka, CA and found a great seafood restaurant before we called it a night. We stayed at the Clarion Hotel by Humboldt Bay and the beds were great.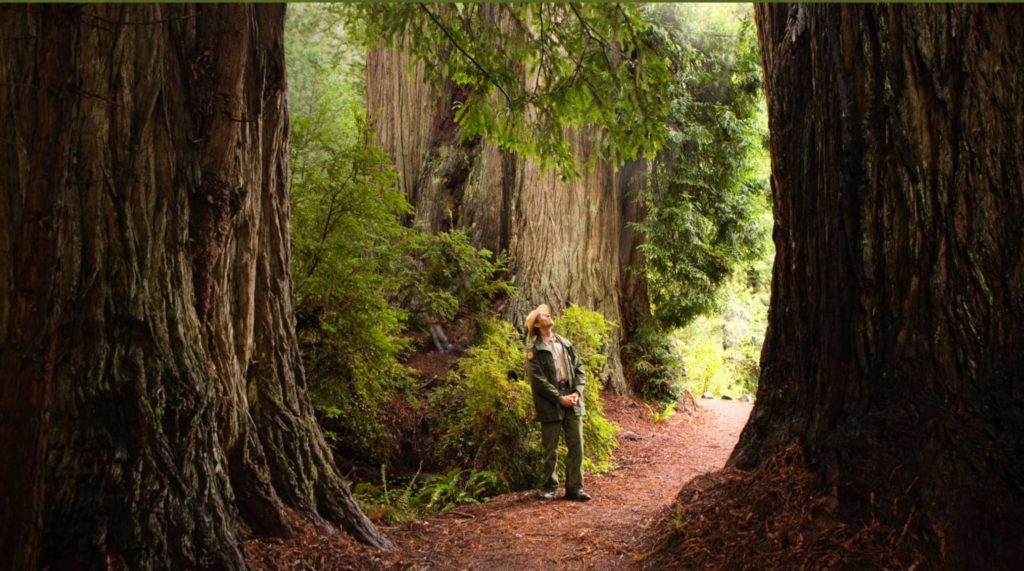 By now it is October 5 and after breakfast at the hotel, we were off to see the famous "redwoods". It was a slower drive on Highway 101, a narrow two lane, but remember, we were in no hurry. We must have been in the redwoods for at least an hour. Of course Deborah had to take a picture of me driving my Acura through the redwood tree.
After checking out the large trees we saw the signs of a "must see" area and we followed the directions. Well, soon we found ourselves on a ONE WAY curving trail with small coulees to drive through with boughs of trees hanging over the sides of the road. Luckily we came out into a clear area and a place to turn around……and get back to the highway.
With so much to look at we slowly wound our way from the Avenue of the Giants southward. After a couple of hours we came to an intersection with Highway 20. This Highway was heading east and we knew we had to go east to get back on I-5 to eventually be in Los Angeles.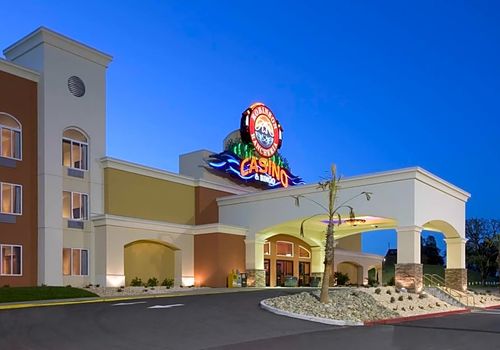 By this time it was just after noon and we arrived at a place called Nice on Clear Lake. This was the home of Robinson's Rancherias Resort and Casino. What a welcome we got from three ladies. First of all the players card gave us each $$ as new members, another $$ for bringing a friend, $$ for me as I have an October Birthday. By the time we cashed in our freebies Deborah was considerable ahead of the game and suggested we should stay there for the night. They had just opened 42 rooms and we cheked our room out before we decided to stay. It was very basic with two beds and everything was clean so we decided we would stay. Down to the desk to see the ladies again! Well, would you believe we got more coupons. We each had a coupon for the Prime Rib dinner with baked potato and salad, and dessert all FREE for staying in the hotel. And the hotel room was $37 so how could we NOT stay. To say the least our tip for our waiter was generous.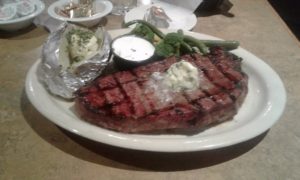 My guess now is that they had not been opened very long as there was no place for breakfast. We found this out in the morning so in no time we were heading east to I-5. It was a beautiful, clear morning and nice and warm. Soon we were southward bound and we found a McDonalds along the way. By the time we neared Los Angeles it was pouring rain. With five lanes we caught the HOV left lane and in an hour we arrived at the I-10 intersection and were on our way to Riverside. Note: Nice, CA to Riverside. CA = 548.6 miles. Deborah had spent quite a bit of time there with Terry's cousin Melinda so we found a Marriott Hotel close to her home. Dinner with her and Lorraine was a real treat.
Our next day was my Birthday and Deborah treated me to a round of golf. She wanted to play the Riverside course she and Georgie had played many times. We arrived there to find the course had closed and a guy in the parking lot said for us to try the Oaks Quarry course. We did. It was a beautiful course and a wonderful way to celebrate.
The next day we met Melinda and Lorraine at Palm Springs for lunch. Their favorite restaurant was Mexican which left me trying to find something NOT hot and spicy. It was a good time for Deborah to get a chance to visit as she and Georgie used to stay with Lorraine and Melinda years ago.
We checked out of the Marriott the next day and we were off to Las Vegas and arrived there at 9:30 a.m. We stopped at Golf Galaxy for golf balls and on to St. George Utah.
I had a call from my condo booking agent, Lori, that the condo we had booked wasn't available after all. So we booked into the Fairfield Inn and went golfing at Sky Mountain the next day. After golf we stopped at Darlene's to see if she was going away (she usually went on trips in October) and if her house was for rent. Lucky for us on both parts! We were able to move our stuff into her house the next morning in time for me to take her to the Shuttle to go to Las Vegas and catch her airline flight.
We were lucky to get tickets to the first of the winter series of concerts at the Cox Auditorium. The production of "In The Mood" was right down our ally. We never tire of music from the big band era and this night was no exception. The dancers were also terrific in this show.
Deborah and I had some great games of golf at Sky Mountain, Sun River and the Ledges. We golfed Kokopelli and I shot 84 which was awesome as it has some very long holes. The course closed the next year as it was really out of the way about 15 miles SE of Hurricane.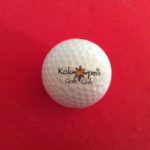 Deborah and I got tickets to The Price Is Right at Bally's in Las Vegas. It was a small scale compared to the TV show but it was fun to see how the show was run. No prizes for either of us.
Our next adventure was to go see the PGA Golf Pro's at Summerlin in Las Vegas. We went to JoAnn Fabrics to buy a four yards of orange fleece to wear to cheer for Ricky Fowler. (There were over 100 seniors dressed in orange t-shirts that had come from St. George to cheer for him. Ricky's Grandparents live in St. George.) We wore the fleece and cheered for him and also cheered for Graham DeLaet in the same pairing.

AND that was the day we met and talked to Peter Oosterhuis. Peter's first win on the PGA Tour was the Canadian Open. Peter went on to be an excellent golf commentator until he was diagnosed with Alzheimer's disease.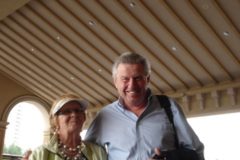 We had an easy drive back to Calgary and sadly said good bye to Deborah as she boarded the plane back to Hamilton, ON.