It is always warm in San Diego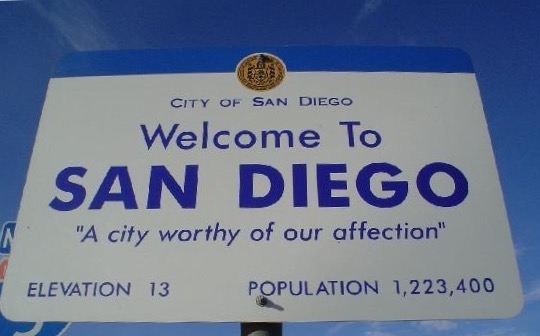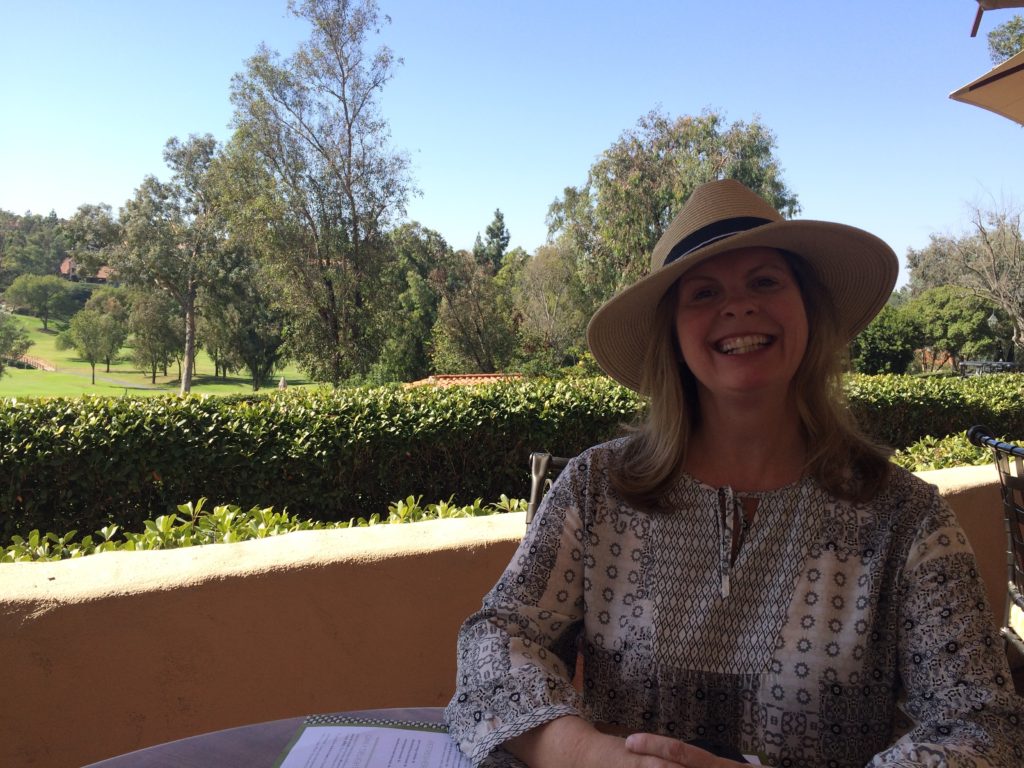 Lisa met me at the airport and in no time we were having lunch at the Rancho Bernardo Inn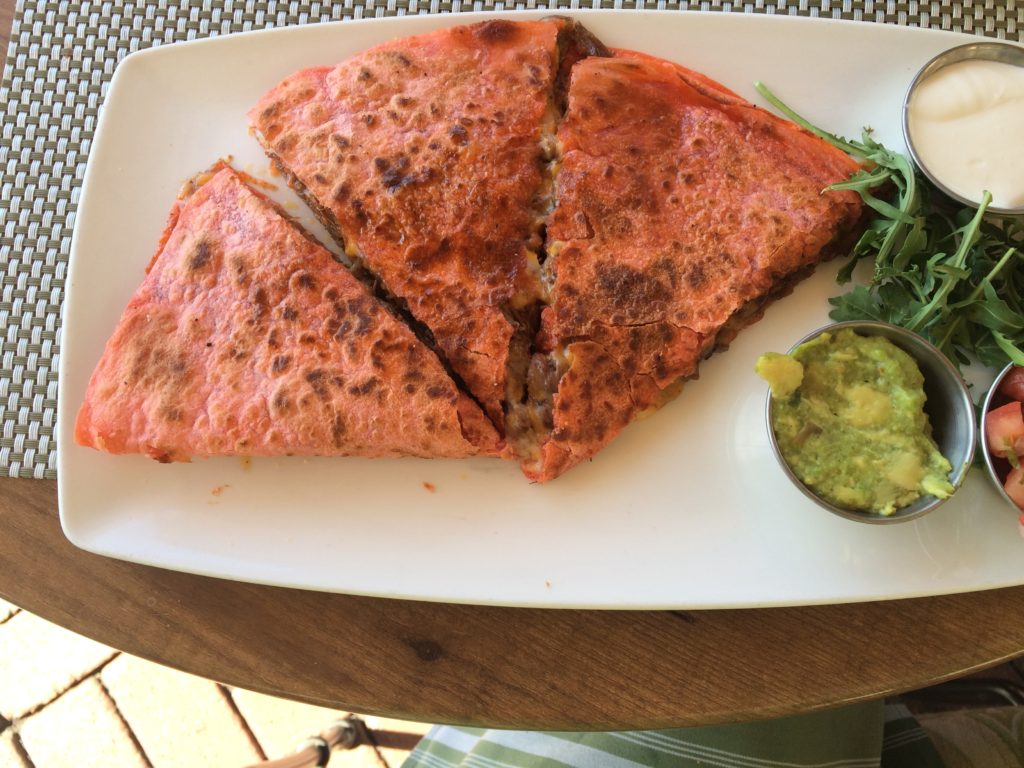 We sat out on the patio under a big umbrella and as usual I found something on the menu I had not tried before.  Short rib quesadilla with lots of guacamole and sour cream.  The salsa was a bit too hot for me. Lisa, of course, had a healthy lunch – carrots, cucumbers, hummus   and we both drank water.
We stopped in at Best Buy for PodSockets for everyone in the family and one for myself.  Mine is all colors of the rainbow!
I called Carmel Mountain Ranch Country Club to see what they had available on Tuesday for golf.  Would you believe Tuesday is Seniors Day and they can play the course for $30 including cart.  I put my name in for 7:40 a.m. and they said, " See you in the morning".
Lucky me I was joined by Randy and Larry who golf there on a regular basis. We made a pact to watch each other's ball in flight and didn't lose sight of any shots. We had a lot of fun as no one was very serious just enjoying the course and the weather.  The greens were absolutely fabulous: smooth, fast and no pitch marks to be found. I had some difficulty adjusting to being close to sea level as I soon found out I need one more club! One of the holes, #14 was a Par 4 but only 258 yards. However there was water with a wall of rock in front of the green. My drive was good but was on a downhill lie to the water. I hit my PW past the flag and it rolled down to 6′. Only Birdie if the day but I was so happy to hit a good GOLF SHOT.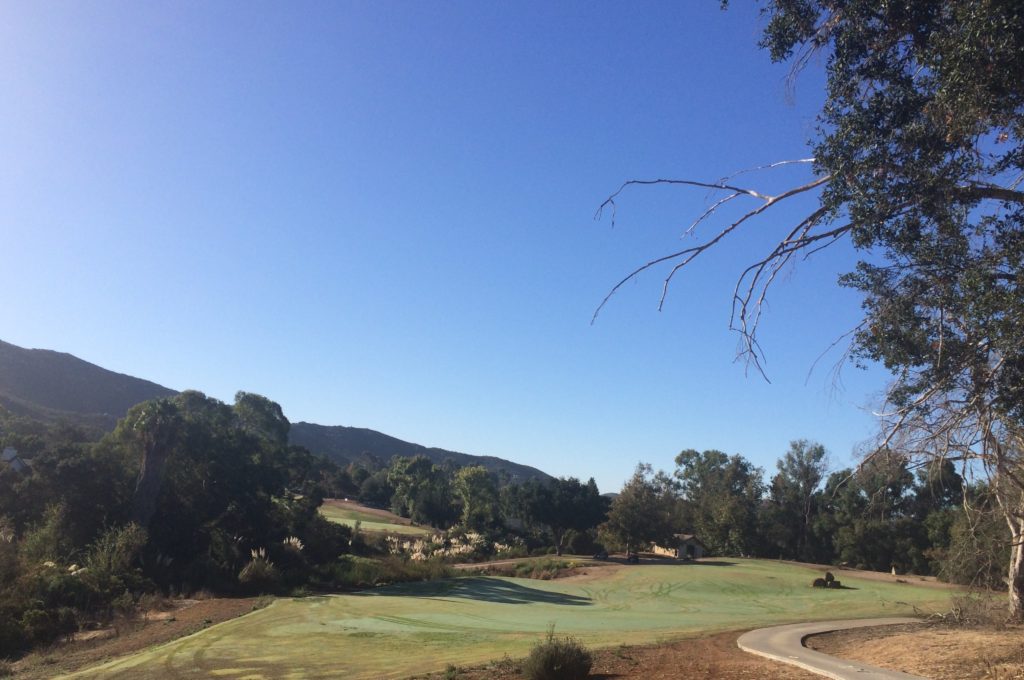 One of the more challenging holes was #10, 471 yards, Par 5. We had to lay up at 100 yards before a deep canyon that you needed to CARRY 150 yards. I hit my 8 iron to the desired yardage and was on a bit of an upslope. My trusty 3 Wood shot cleared the canyon and I used it again to be close to the green.  My chip was so close to the pin that I had one putt.
I asked Randy and Larry if they wanted to be in my blog as I would be writing about my day. I said I would like to take their picture as it adds to the story. They immediately said, "For sure they wanted to be in my blog.
The course is an adventure in many places from green to the next tee box. Sometimes I lost track of where my playing partners were taking me.  We crossed streets many times and the signage was poor for directions on the front nine.  I lost sight of them many times as Larry was going pretty fast ahead of me.  Luckily I didn't get going the wrong way in the many tunnels.
Larry had worked in Canada at one time on pipeline development in the Prairie Provinces. We had lots to talk about. It was a real treat to play with these gentlemen.
I will play Carmel Mountain Ranch Country Club again!