It is that time of the year with our cold weather and snow everywhere that people start dreaming of getting away and Hawaii is certainly high in the choices for a warm vacation.
Doc had always loved airplanes and flying. He loved to hang out at the Regina airport hangers of the flying clubs.  His took his first flying lessons in Chilliwack, BC in the winter of 1947 when his father, the Doctor and Mrs. O'Shea were wintering there. And although he couldn't pilot an airplane after he broke his back in 1958, that didn't stop him from keeping abreast of the airplane industry in Canada. I remember the summer of 1959 when we drove from Regina to Vancouver we took a bit of a detour to Seattle. At first I didn't know why,  but Doc had heard about the 747 being built at the Boeing plant and wanted to see it first hand.  We drove that 1951 Cadillac through the gates and were…….almost…….close enough to see the plane before security escorted us to the exit.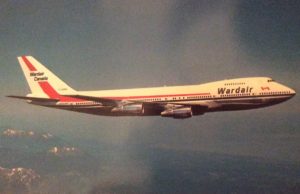 Doc insisted when we talked about going to Hawaii in 1978 that we would fly Wardair or not go. Doc always had a lot of admiration for Max Ward who had founded Wardair Ltd in 1952.  Everyone talked about Max Ward and how he had quite the history in aviation. By the 1970's Wardair Canada had developed into Canada's largest international air charter carrier and until 1984 flew schedules routes. Wardair was not a discount airline but provided good service at lower than average prices. They were known for high quality meals and friendly staff serving Steak and Champagne on Royal Doulton fine china on tray-table tablecloths on the passenger tray.
Christmas 1978 is a blur to me now although we would have had a turkey and all the trimmings. Early December 27 we were off to Edmonton in the Cadillac with John and Roseline Weisshaar.  Roseline's sister, Erna, welcomed us to her home where we stayed for the night. Erna was also the lucky one to drive us to the airport early the next morning in the -30 C temperature.
Everything people had said about Wardair was certainly true.  We four had the seats at the front of the airplane and the pilot informed us, we would be the first to arrive in Honolulu. We were surprised when breakfast of Steak and Champagne was served as this was our first (and only) trip via Wardair.
Arriving in Oahu was so exciting.   Our friend Henry (Hank) Trout, from Wilcox, SK. was there to meet us and take us to our hotel.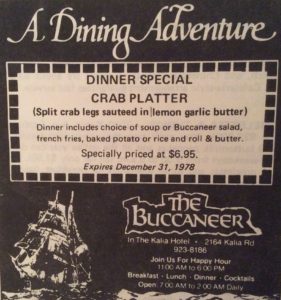 Hank had  made dinner reservations at The Buccaneer for all of us. As you can see by the picture, the Crab Platter, was specially priced at $6.95.  I had never had crab legs before and could not believe my eyes when the "platter" for each of us arrived.  Huge. What a fun night?
All the major tourist attractions were visited on Oahu including the Arizona Memorial, Diamond Head, the Polynesian Cultural Center, Germaine's Luau and lunch at the Royal Hawaiian.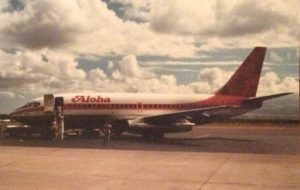 Off to Maui and the Holoani condo. The rental car we picked up at the airport was a bit short on stopping! Actually needed new brakes so we took it back the next day and the new one would stop on a dime.
One day Doc and I took off on our own and went shopping. Soon we were having a beer and a sandwich in Don Drysdale's Whaler's Pub. Don Drysdale's  was one of the most prominent pitchers of his time with the Brooklyn Dodgers (now the L.A Dodger's and still my favourite team). We had just ordered our lunch when the staff started closing the big wooden shutters that faced the ocean to the west. Little did we know there's was a big storm coming.  Soon it was very windy and pouring rain. Well we had to wait it out and finally we able to get to the car wading in water over our shoes. John and Roseline were in the condo and were worried about our welfare as not only did it rain but there was hail with the wind. Many of the windows were blown out in the condo wall that was perpendicular to the ocean. Draperies were hanging outside the windows where the glass was gone. We drove through quite a bit of water getting back to the condo.
We had a wonderful time in Hawaii. Here are a few pictures of that trip:  Roseline enjoying the flowers and me in my new hat.
We arrived back in Edmonton to -30 C temperature again.  We had the warm welcome of our kids on arrival in Regina.
The Hawaii I will remember is (1) getting off the airplane to the smell of citrus fruit.  (2) my first Mai Tai and  Hawaiian Sunrise drinks (3) rain so warm you don't want to cover your head. (4) the Ladies Choir that sung at Mass in the Maria Lanakila Catholic Church – so beautiful was their harmony that when we left the church Doc said, "this was as close to heaven as I will  ever get".