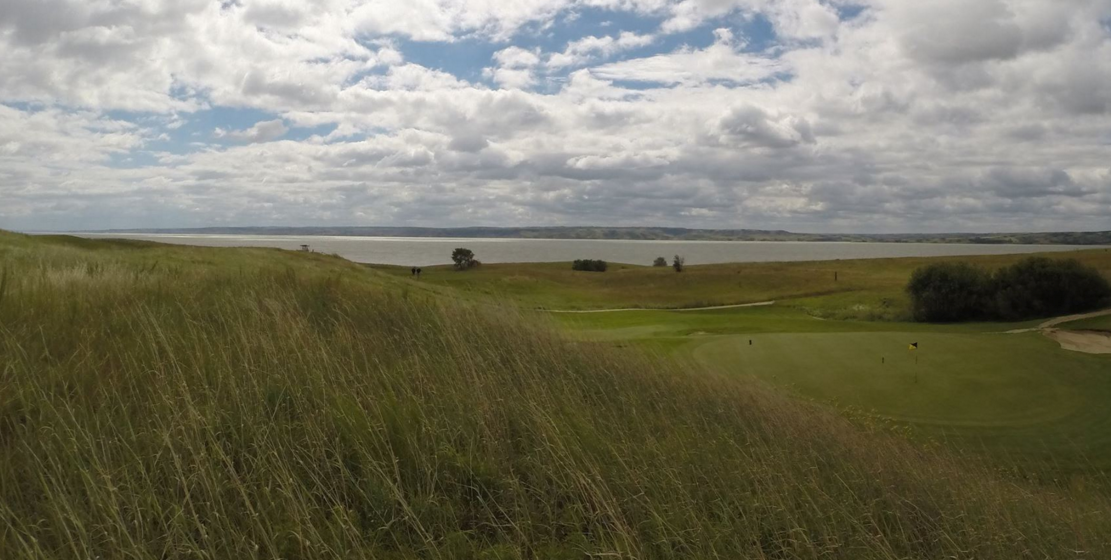 Back in 1997, one of my friends and I went on a road trip together to play golf in North Dakota. I'd met Adele Obrigewitsch through the Ladies Club at the Murray Golf Course in Regina, Saskatchewan when we were both members, and the trip to Roy, just outside of Williston would be girls' weekend out. A new golf course had opened down there and people were talking about it, and it had peaked our curiosity. The road trip would give us an opportunity to play some golf, do some shopping — and maybe buy some American beer to bring back home. Williston was just a little more than three hour's drive away.
The Links of North Dakota, as it's officially known, was built on a hill the locals have called Red Mike Hill for over a hundred years. Back in the 1890's, Red Mike was a lowlife – a cattle rustler or a horse thief – depending on who's telling the story – and on that hill, along the Lewis and Clark trail that is now part of Highway 1804, he was captured by a group of vigilante cattlemen and set on fire. Or hung. Whichever it was, Red Mike turned, indeed, red, and lived to tell the story and so the legend began.
Neither Adele nor I had been down to The Links to play before, but both of us had watched enough golf on TV to have an idea of what a links-style of course was. The reality is that hearing about it and actually knowing what it was — is two different things. Looking back I realize that TV wasn't all that much help — we certainly didn't have the high definition or 3D displays we have today to help us really get an idea of what the players were up against when they played links courses such as St. Andrews. I know better now. When it comes to links courses, playing is knowing.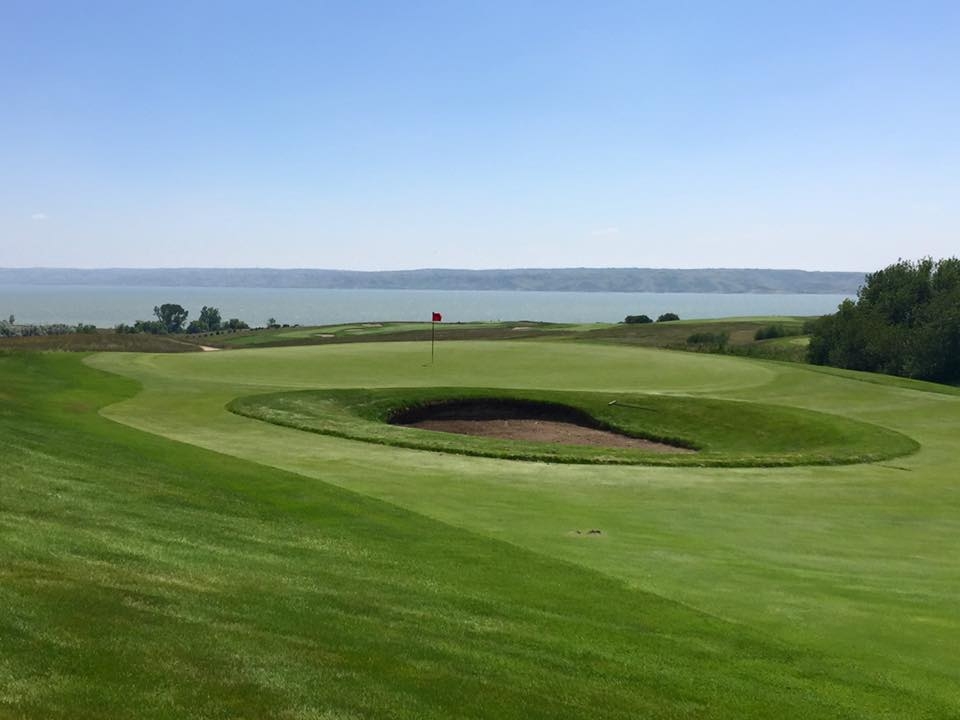 The course was was breathtaking, and beautiful, and I'd have to say it was rather barren – that's not a criticism, just the facts. Yes, there were some bushes here and there, but I doubt if there was a single tree on the entire course. Why would there be? Trees don't grow, ordinarily, on the prairies, or in the Badlands either, where Red Mike lies. The hills on the course were mostly kept just the same way Mother Nature had designed them to be, and the greens, bunkers and fairways just added on top  to turn it into a golf course.
Rough Stuff
Lining the fairways beyond the second cut of rough was where the native prairie-style grass began. That combination of bent grass and fescues grows from 4 to 79 inches in height. It is a tufted grass and once your ball is in it, even if you were allowed to play from it, you COULDN'T get any club through this tight, long grass. That is, of course, unless you wanted to break either a club or a wrist, or both.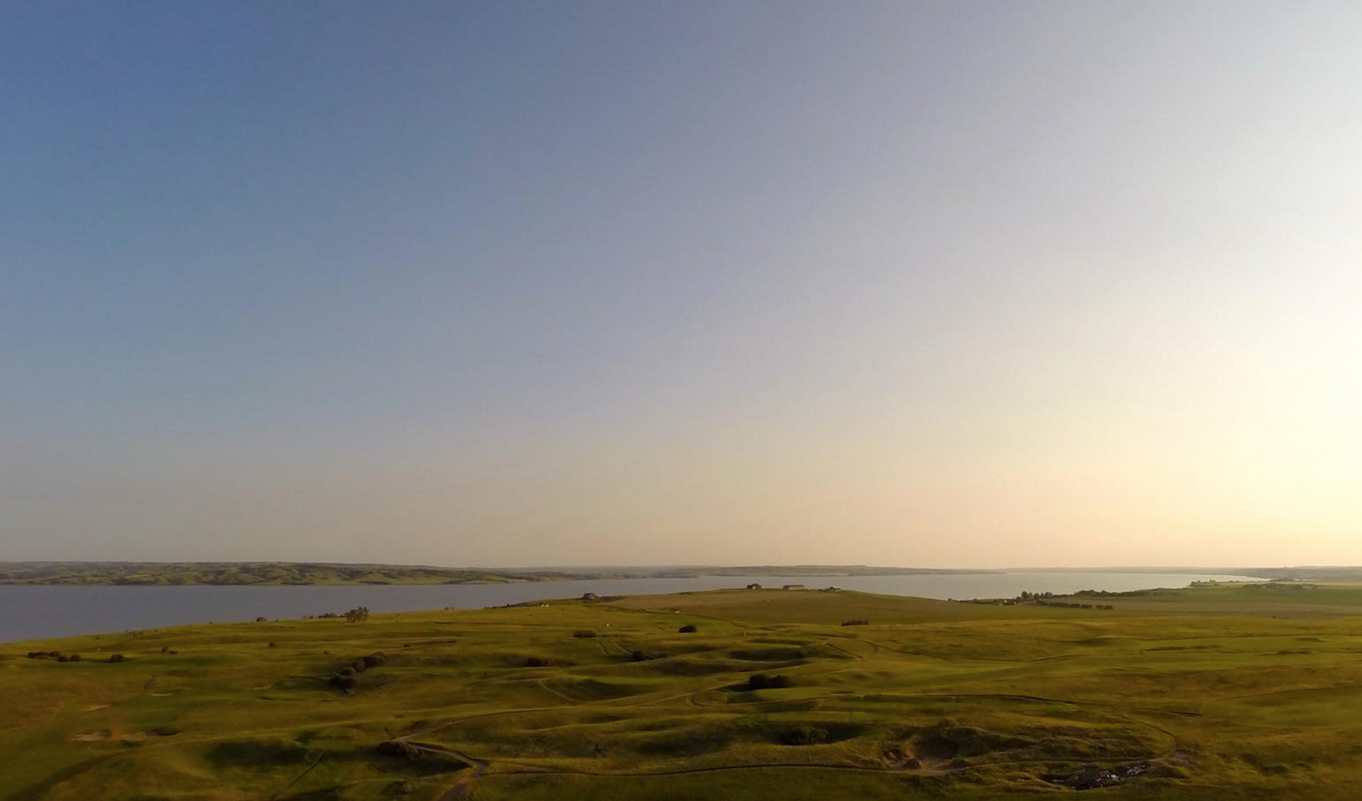 That was our second "first" for the day. Neither one of us had encountered that kind of grass on a golf course before, even though we'd heard it mentioned in golf broadcasts. The starter warned us.  He said there was no water on the course, but there were breathtaking views of Lake Sakakawea. And he made it absolutely clear: that long grass is environmentally protected and you are not allowed in for any reason. Not to look for your ball, to play it, or even retrieve it.
That was fine with us. We had no intention of going there.
Ha Ha Ha
With all those bumps, directing our balls to go hither and yon, that prairie grass was a magnet, beckoning our balls to come and visit, even asking some of them to stay! Thank goodness, the golf cars were equipped with a golf ball retriever. It's not that we used it in the usual way, retrieving our balls from a pond or water hazard, but to retrieve our balls from the FESCUE.  And if a ball ended up there, you had the pleasure of adding a one stroke penalty to your score, that is, if you were lucky enough to "fetch" your ball from this long grass with the long armed-assistance of the golf ball retriever!
What an experience!  We lost a few balls but we loved the golf course, which, as a twosome, we practically had to ourselves. Looking back, we sure could have used some local knowledge! A caddy like Josh who I had at Coeur d'Alene would have come in handy, that's for sure. Twenty years on, and with over 175 golf courses under my belt, I would dearly love to play this course again.
On our way home, we stopped at Lund's Landing Restaurant for the chef's special which happened to be freshly caught Walleye from Lake Sakakawea. The restaurant was right on the water. And with cheery red and white checkered tablecloths, it was the perfect setting for a delicious dinner after our round of golf.
I